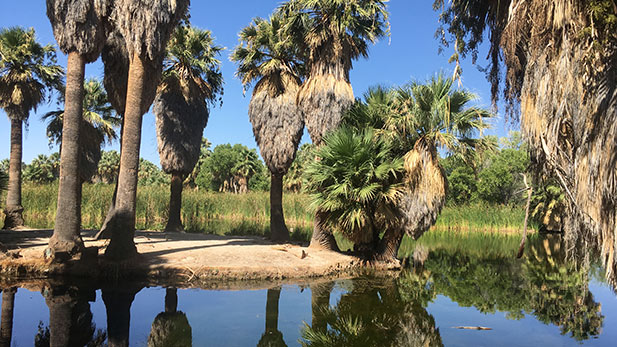 Agua Caliente Park Pond #1 July 2016

Christopher Conover, AZPM
Agua Caliente Park on the far northeast side of the Tucson metro area is a favorite with families and bird watchers.
The pond at the front of the park is filled with small fish, and frogs. Birds flock to the cattails and trees lining the shore. But the spring that fed the pond for a century or more has stopped.
The most likely explanation is a geologic plug.
"About five years ago, we had a very significant summer storm that impacted the face of the Catalinas and a lot of those drainages which were probably the historic source of water…shifted geologically," said Kerry Baldwin with Pima County Parks and Recreation.
Since then, the county has pumped water from the aquifer to keep the pond full.
In the western part of the park, another pond has dried up, too.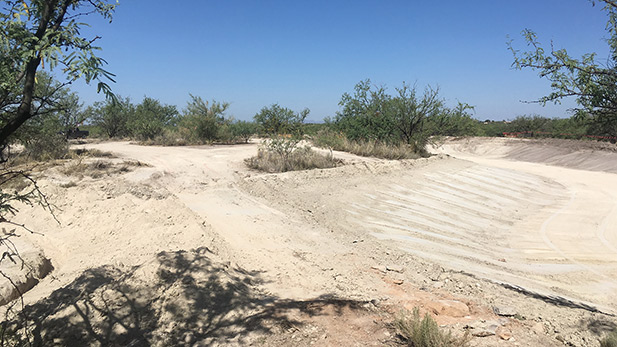 Pond number two at Agua Caliente Park is graded in advance of the installation of a liner. July 2016

Christopher Conover, AZPM
Crews have leveled the walls and bottom of that pond to get it ready for the installation of a liner. Once that is installed, water can be pumped in. Crews will also do other work on that second pond, all at a cost of $500,000.
"We are going to come in and do landscaping, project manager Colby Fryar said. "We are going to add a lot of trees, a lot of cover, a lot of plants. Plus we are putting in a path all the way around."
Eventually, workers will do the same to pond No. 1.
County officials had hoped to use bond money for that, but voters rejected the plan last year so it will have to wait.
Baldwin said once a liner can be added to the front pond, water usage will drop by at least half. He said letting the pond go dry was not an option.
"It is such an iconic spring, riparian area in the Tucson basin for literally hundreds of years and to let it go dry when we have management solutions doesn't seem like the best management option."
The restoration of the western pond is expected to be completed in the fall.