By Stina Sieg, KJZZ
More information came out Wednesday about the arrest of a Tucson man on terrorism charges last week in a court document quoting an FBI investigation.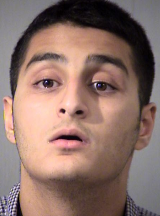 Mahin Khan, Tucson terrorism suspect. (PHOTO: Maricopa County Sheriff's Department)
Mahin Khan, who turned 18 last month, was identified as a supporter of Muslim terrorist groups and was planning to target an Air Force recruitment center in Tucson, the heavily redacted document said.
The "probable cause" document filed in Maricopa County Superior Court quoted the FBI as saying Khan called himself an "American jihadist" and allegedly told an unnamed person he was a supporter of ISIL and TTP. ISIL is one acronym for the Islamic State, and TTP is a part of the Pakistani Taliban.
Khan allegedly mentioned wanting two AK 47s assault rifles and a pistol, but then apparently changed his mind and sought a pressure cooker, which terrorists have been known to use as the casing for bombs. The document quoted information attributed to Khan as saying he needed the weapons to kill Marines and Jews.
Khan was arrested one week ago in Tucson. He faces charges of terrorism and conspiracy to commit terrorism.
He was being held without bail in Phoenix, and his next court date is Tuesday.
The Arizona Republic newspaper in Phoenix reported Wednesday that Khan lived with his family in a gated community near River Road and Camino Boscaje Escondido on Tucson's north side. Another news report said he attended Catalina Foothills High School in Tucson.