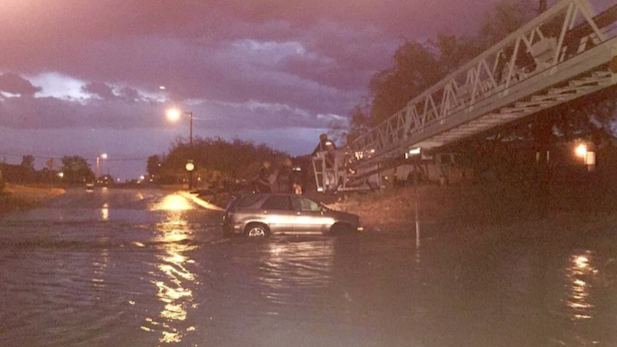 Tucson firefighters pull four people from a car swept downstream near East Lee Street and North 9th Avenue in Sunday's rainstorm.

Courtesy Tucson Fire Department
Four people, including an 80-year-old woman, were rescued from a car swept down a wash by runoff from Sunday's rainstorm in Tucson, the Tucson Fire Department reported. No one was hurt.
The rescue occurred near East Lee Street and North 9th Avenue, north of downtown, when water was rising to the level of the car's windshield, a Fire Department press release said.
A ladder truck was en route to another call when the crew saw headlights in the wash and set up to rescue, extending its ladder horizontally to the car. Firefighters helped the four to the car's roof and then into the bucket on the ladder.
The rescue and several others that came in Sunday's storm led officials to reiterate their warnings to motorists to not drive around barricades on flooded roads.
"Most flash flood deaths occur in vehicles," the press release said. "Moving water 1-2 feet deep will carry away most vehicles and can knock a person off their feet."
The storm signaled the first significant rainfall of the summer season, with more to come, the National Weather Service said.
"We're looking at the high pressure setting up near the Four Corners region, which will really get things ramped up," National Weather Service meteorologist Emily French said. "We could have one or two days that are fairly busy."
French said recent storms had many of the typical signs of the monsoon. They approached from the south and brought along a rise in dew point, the measurement of atmospheric temperature at which water droplets condense, meaning it can rain.