Arizona Week returns Friday to Douglas for an update on Jaque Lamadrid, 31, mother of four undergoing treatment for breast cancer.
Lamadrid had a double mastectomy earlier this year after a lump was found in one breast, and she began chemotherapy weeks later. She is nearing the end of her treatments and sat down with her husband Roberto to talk with Lorraine Rivera about her progress.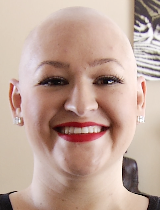 Jaque Lamadrid. (PHOTO: Steve Riggs, AZPM)
"I'm feeling really good," Lamadrid said. "My last chemo was June 10. That was my third one. I have one more, July 1. The fourth and fifth day after chemo is the worst. But after that it's OPK. It just feels like a really, really bad flu or morning sickness."
She said she is trying to work toward normalcy in her life, planning her oldest son's 10th birthday party and putting off the family Independence Day celebration for a week.
Her husband Roberto said most days, life is normal. But chemotherapy takes its toll on his wife and him.
"Now I see her normal," Roberto said in Spanish. "Those chemo days are hard. Those two or three days, she doesn't feel well. ... It's just on those days. Other than that, it's normal."
Also on the program:
Roberto Lamadrid Jr., 9, talks about family life with his mom under treatment.

A look at Tucson's Ronald McDonald House, a safe haven for families whose loved ones are undergoing cancer treatment, including an interview with President and CEO Kate Jensen.

Stacey Tesh and 15-month-old daughter Olivia, who is under treatment for a rare congenital disease.