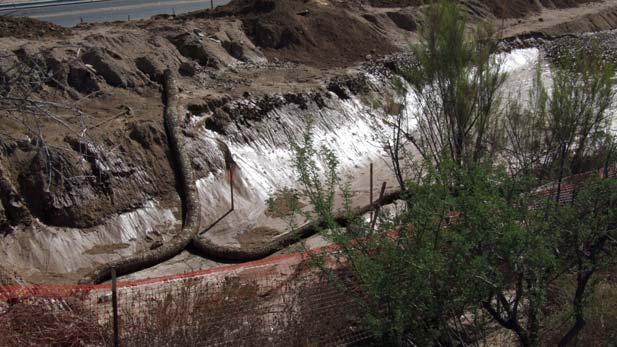 10/17/12. Rebecca Brukman. Image of a muddy wash out zone as a result of monsoon.
Monsoon season officially begins Wednesday, although Friday and weekend rainfall was the real beginning of the summer rainy season.
With it come official reminders and warnings that a monsoon storm can turn a dry road in Tucson into a flowing river in a matter of minutes.
Officials with the city of Tucson want drivers to remember not to go around road closed signs.
"After a storm comes through and water comes through a wash, what may look like an inch of standing water in that roadway in fact could be a three to four foot sinkhole," said Michael Graham, a city transportation spokesman.
Graham said even if a road closed sign is at a dry wash, motorists should find an alternative route. City officials are in touch with the National Weather Service and flood waters could be traveling towards the road.
If a driver gets stuck after going around a road closed sign and must be rescued, the "stupid motorist law" allows officials to charge the motorist force payment for the cost of the rescue.