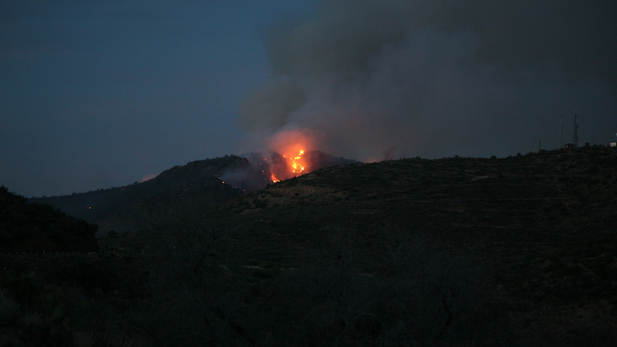 Stina Sieg, KJZZ Radio
Updated at 4 p.m.
By Kathy Ritchie, KJZZ Radio
Crews battled a 1,200-acre wildfire in Yarnell Thursday, near where 19 firefighters died three years ago in a fire.
Hundreds of Yarnell residents were evacuated Wednesday, with several in nearby Peeple's Valley being moved out Thursday. For area residents and for firefighters, it's an emotional time, stirring up memories of what happened in June 2013.
"Again the population was just trembling," said Kathleen Stowe, a resident of Peeples Valley and former vice president of the Yarnell Hill Recover Group from three years ago.
"Ambulances were coming by us to pick up some people who were elderly that were just very frightened again," Stowe said.
Firefighters faced hot, dry temperatures and potentially dangerous winds. By mid day Thursday, the fire was 10 percent contained, said Mike Reichling, state forestry information officer.
Helicopters were dropping water on the fire after earlier drops of fire retardant, known as slurry, from a DC-10.
"Three years ago what we were dealing with was more of a monsoonal setup where you can get those large storms in the outflow winds from those large clouds and cumulous setup," said Dolores Garcia with the U.S. Bureau of Land Management.
She said Yarnell residents were better prepared to deal with fire this time.
"The community has worked to create fuel breaks, clearing large areas of vegetation strategically around the community," she said. "So the firefighters when they came in were able to direct the fire around the community because there was no fuel to burn or very little fuel to burn."
The blaze, which is suspected to be human caused, remained under investigation.