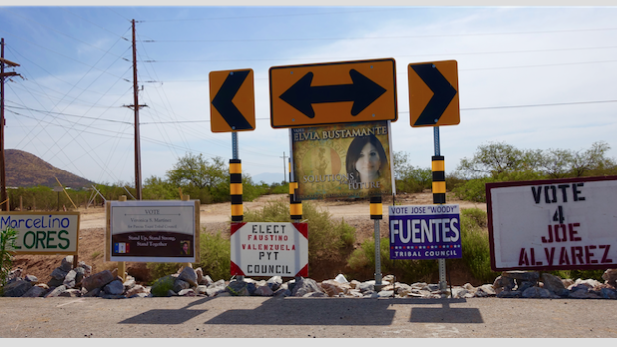 Pascua Yaqui campaign signs at South Camino de Oeste and Calle Torim. (PHOTO: Vanessa Barchfield, AZPM)
Members of the Pascua Yaqui Tribe in Tucson will cast ballots Monday for all 11 seats on the Tribal Council.
"The Tribal Council, well they uphold the constitution of the tribe," said Magdaleno Alvarez, chair of the Pasqua Yaqui board of the elections. "We're a sovereign nation, so you would compare them to the president. They are the ones that govern the nation."
Alvarez said 50 candidates are running for Tribal Council, including all the incumbents seeking re-election.
Typically turnout is low, at just about 20 percent, Alvarez said. This year there's an effort to increase participation among 14,000 eligible voters. Absentee ballots have gone out and early voting has taken place for the past few weeks.
Alvarez said winners of the election will be announced soon after polling stations close on Monday.