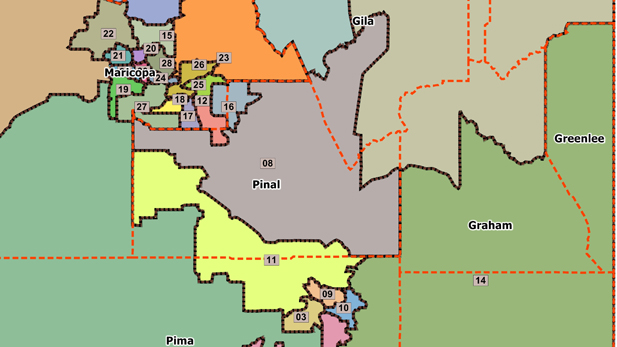 Arizona legislative districts, as drawn by the Independent Redistricting Commission in 2011.

Independent Redistricting Commission
The U.S. Supreme Court ruled unanimously Wednesday to uphold Arizona's legislative redistricting, saying disparities helped meet requirements of the Voting Rights Act.
The decision came in Harris vs. Arizona Independent Redistricting Commission. The case originated with a group of Maricopa County voters who said population disparities among legislative districts violated the one-person, one-vote standard of the Constitution.
The court upheld lower court rulings that while the redistricting involved population disparities, they were done primarily to give minority groups the equality called for in the Voting Rights Act.
State officials, including Republican Secretary of State Michele Reagan and Republican Attorney General Mark Brnovich, had joined the argument that the disparities made the redistricting unconstitutional.
It was the second appeal to the Supreme Court of the Independent Redistricting Commission's work, which was completed five years ago.
In the first appeal, the state Legislature's Republican majority challenged the commission's congressional redistricting, saying it usurped legislative authority over drawing district lines.
The court ruled against that, saying Arizona voters had vested legislative authority in the redistricting commission.
After redistricting, the Legislature remained firmly in Republican control in the 2012 election, while Democrats won five of the nine congressional district seats. In 2014, Republicans retained legislative control and won five of the nine congressional seats.
Read Supreme Court ruling here

View at Google Docs

|

Download File