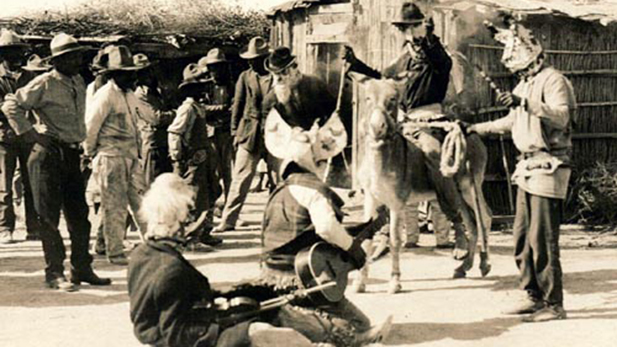 (PHOTO: University of Arizona Library)
Listen:
For almost 10,000 years, the Tohono O'odham people occupied territory that stretched from what is now central Arizona south to Hermosillo, Mexico.
In 1854, the Gadsden Purchase split their homeland between Mexico and the U.S., leaving the indigenous people divided between two countries.
The reservation shares a 75-mile border with Mexico. Yet for almost two centuries, families crossed the border indiscriminately. There was no fence, no barrier.
"Our families are still on that side," said Amy Juan, a teacher on the nation. "There are still cultural and sacred sites on that side. There is still a reason to be there."
She said there was a shift after the terrorist attacks on 9/11. Modern concerns about security and immigration changed life in this region of the U.S.- Mexico border. Tribal residents say Border Patrol has harassed residents and policy changes brought more illegal activity, however collaboration with the federal government has also brought new technology.
Homeland Security doubled agents on the U.S.-Mexico border to almost 20,000.

The once easy to access illegal crossings in the urban areas were shored up. Drug and human traffickers shifted to more remote regions. One of those areas is through the O'odham land.
"I remember when things started to change," Juan said. "We started seeing a lot of activity, either people coming through or drugs coming through."
Juan was a child when her quiet and safe world was shattered after her grandfather, who lived alone, was attacked.
"Some smugglers broke into his house," Juan said. "They shot him point blank while he was sleeping. They thought he was dead – he pretended to be dead – they stole his money and his truck and stuff and then they left."
The attack on Juan's grandfather ignited fear and resentment on the Nation. Fear of the marked increase in drug and human traffickers and resentment toward the U.S. government for creating the conditions that would funnel more danger and violence through their communities and would cut them off from their families on the other side.

In response, Border Patrol agents were sent to protect the people of the Nation. Agents came in great numbers, saturated the area with their presence and established checkpoints along the highway to the reservation.

Today Amy Juan is a member of a grassroots Tohono O'odham organization trying to keep Border Patrol in check. Instead of feeling protected, many on the Nation reported being harassed and mistreated by agents.
"We started to see restrictions on our freedoms," Juan said. "Checkpoints came up and just this whole culture of fear for both the illegal activity and from those who are supposed to protect us."
Border Patrol said it has plenty of reason to stop those who live on the reservation. Drug cartels often offer residents, most who live in extreme poverty, large sums of money to help move either drugs or humans into the U.S.

Economic times are tough for members of the Tohono O'ogham Nation. According to the TOCA, Tohono O'odham Community Action, per capita income on the Nation is around $7,000 – the lowest of all U.S. reservations.
And yet the people of the Nation have something outsiders may not understand, something that money can't buy.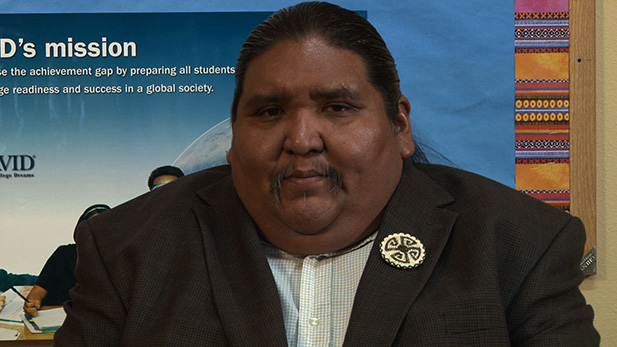 Vernon Jose. (PHOTO: Nancy Montoya, AZPM)
"This is where our creator put us here," said Vernon Jose, the vice chairman of the Nation. "This is the most beautiful place in the world. It may not be to someone else's eyes, but it's ours."
He has seen the conflict with the Border Patrol and said they are now trying to create a better relationship with agents. New "residents only" border crossings have been put into place and a people once isolated by the lack of technology now piggyback on Border Patrol's technology.
Jose said remote areas of the Nation have limited cell phone coverage and Wi-Fi access.
"Although we get harassed from time to time, we still partner with them to bring technology so they can secure the border," Jose said. "What we're looking at is how can that help us? So we partner. We look at building those bridges."
For example, Jose said, the Tohono Utility Authority is laying fiber optic to tribal districts that will connect a community building to the Internet.

A give and take relationship has been forged between the Border Patrol and the people of the nation. It's not perfect, but they are learning to live together.

Amy Juan said there is one area where there will be no compromise. Residents will not deny food or water to those in need, even if they may have crossed the border illegally.

"One of the things I always remember from our elders is that especially here in the desert, life is an equal opportunity to everybody, because we are all trying to survive in the desert," Juan said. "I want people to understand that it's not all black or white. There's no right or wrong reason to how to live with the border."