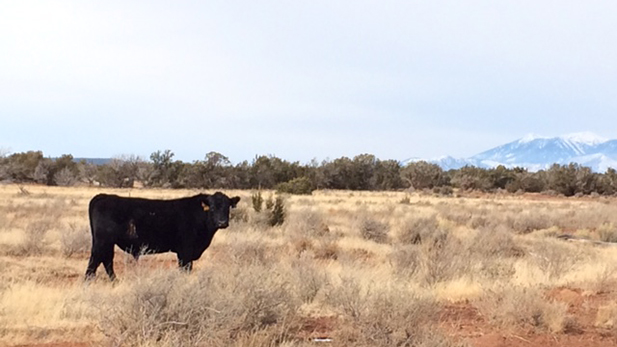 A bull grazes on a ranch east of Flagstaff.

Laurel Morales, Fronteras Desk
By Laurel Morales, Fronteras Desk
As the militant standoff over federal control comes to a head in Oregon, there is another federal land dispute. This one in Arizona, where lawmakers have proposed a national monument on land surrounding Grand Canyon National Park. Ranchers are worried about losing their grazing rights.
Listen:
Jim Parks keeps trying to quit ranching.
"I've retired from cowboying mostly," Parks said. "I think I've retired four times now."
His horse has fallen on him, smashed him up against a fence post and bucked him off. Just when he thinks he's had all he can take, he remembers what he loves about it.
"You've saddled your horse in the dark and you ride out," Parks said. "You gotta wait for daylight. You're on your horse and the sun's coming up pink and purple and gold and you're about to go do the thing you most love to do in the world, which is ride your horse and gather cattle and I'd just think to myself, 'Man! what in life could be better than this!'"
Parks drove on dirt roads on a recent morning to the Flying M ranch east of Flagstaff. His cool blue eyes peered out from under his well-worn cowboy hat.
"Now look out there and tell me what you see," Parks said. "You see a lot of grass standing up, don't ya?"
He points to plenty of long dry grass and said ranchers have to take care of the land. If they don't, they're out of business.
Parks said the Native Americans and environmentalists behind the monument proposals are misinterpreting the 1906 Antiquities Act.
"The original intent is to set aside a piece of land that will protect the artifacts but with the minimum amount of land around it to actually keep it within a protected status," Parks said.
Parks said 1.7 million acres is asking too much, when Arizona already has the most monuments of any other state. A monument designation does not mean grazing is automatically prohibited. But some monuments have shut out ranching.
Parks said the militia group in Oregon who took over a national refuge to protest federal overreach isn't helping their cause.
"Standing outside the government building with a sign, that's fine," Parks said. "But they should not have broken a law."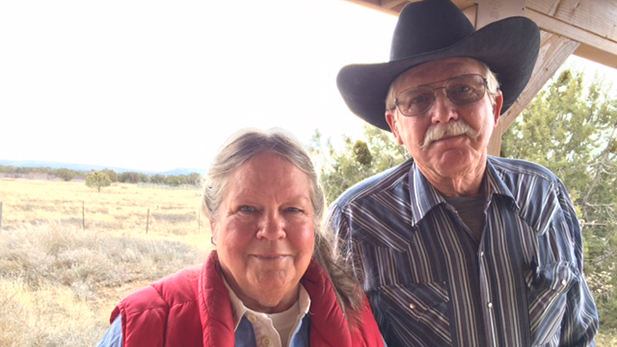 Diana and Alan Kessler stand on their porch east of Flagstaff. Diana's family has been ranching for more than a century. She says they have had a difficult time convincing federal land managers to make changes to allow for innovative ranching techniques.

Laurel Morales, Fronteras Desk
Diana Kessler's family has been ranching for over a century. They have permits to graze their cattle on state and Forest Service land. Kessler has fought with the Forest Service over management practices for years.
"People are so frustrated and not being heard that they're going to any lengths," Kessler said.
"And you wonder why young people aren't going into agriculture or this kind of business. Why would you? Why would you want to fight that much and lose?"
There are two monument proposals. Both would set aside 1.7 million acres of land north and south of the park. The Center for Biological Diversity has pushed President Obama to proclaim a national monument that would protect the watershed from new uranium mining claims. The center's public lands campaigner Katie Davis said mining isn't the only concern.
"A number of issues that we've seen with grazing include erosion, which can lead to water pollution, disruption of natural fire processes, as well as displacement of native wildlife," Davis said.
The second monument proposal comes from Arizona Rep. Raúl Grijalva. He said a monument does not initially affect existing and historic uses of the land.
"But it does set a template down about an overall preservation and restoration for the canyon," Grijalva said.
The fact is what is today Grand Canyon National Park began as a small national monument in 1908. The canyon didn't become a park until 1919 and lawmakers drew wider boundaries in the 1970s to protect the canyon from dams.
Grand Canyon Trust spokesman Roger Clark said the current monument proposal is a long time coming.
"I certainly am sympathetic to people who might say, 'they're never satisfied,'" Clark said. "'How much do these people really want?' Given the fact that we started in a hole and we've constantly been digging ourselves out of a hole in terms of protecting the Grand Canyon. I would say the next logical step would be to protect the watersheds."
Ranchers fear losing their grazing rights. The federal land managers could shut them out or the land could eventually become a national park with a lot more land use restrictions. Before any of that happens, there would be a public process and everyone would get their say.