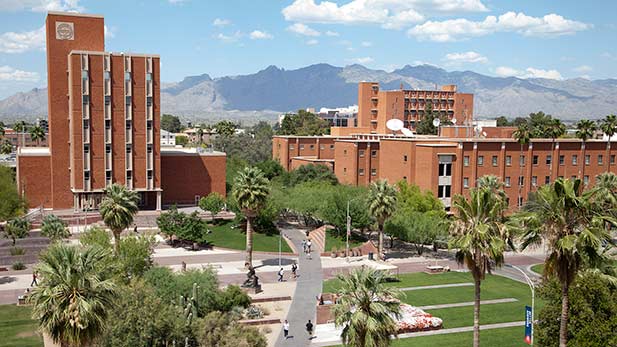 The Administration (left) and Modern Languages (right) buildings on the campus of the University of Arizona.

Megan Roxbury, AZPM
LISTEN:
Arizona spent 14 percent less on higher education this fiscal year than last - the largest decrease of any state in the country, a study reported.
That's in contrast to the 39 states that increased funding by a national average of about 4 percent, according to an annual study from researchers at Illinois State University. Budget negotiations in two states - Illinois and Pennsylvania - are ongoing.
Only 15 states are spending less now on higher ed than they were in 2011, and Arizona leads that pack for the deepest cuts.
"The reality is that affordability is really challenged by these continued cuts," said Eileen Klein, president of the Arizona Board of Regents.
"Our students have faced the largest tuition increases in the nation as a result of the state making the largest budget cuts to our universities."
Klein said going forward, she's eager to see significant gains in how much lawmakers are committing to higher education.
"As every other state invests more in its public higher education system, recognizing how important it is to advance its own state economy, it just puts Arizona behind if we don't begin making those similar commitments," she said.
Lawmakers are currently in the midst of the budgeting process for the next fiscal year.