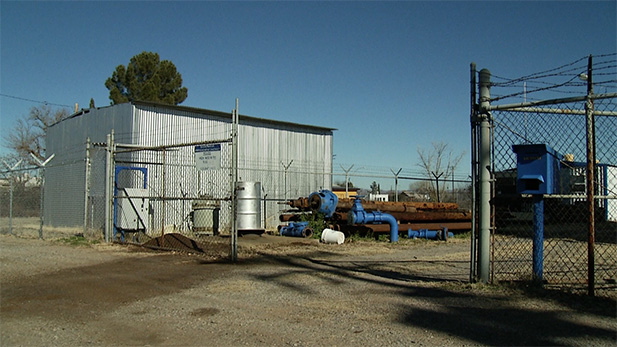 The long pipes that would normally pull water from the ground as a part of Bowie's Well Number Two lay on their side next to the deep hole. The Bowie Water Improvement District estimates it will cost $80,000 to get the well back up and running.

Steve Riggs
Listen:
Worries about future water availability in Cochise County led a group of farmers last year to ask the state to ban new wells.
It is one indicator that farmers, business owners and researchers are keeping track of who is using the area's finite sources of water.
The farmers, including Bowie tree nut grower Mark Cook, asked the Arizona Department of Water Resources to establish an Irrigation Non-Expansion Area or INA. It would have banned new agricultural wells. It also would allow the capping of existing farm wells that are not in use.
"We all recognize that an INA was undoubtedly an imperfect solution to a very complex problem, but the unfortunate side of it was it is the only tool that was available to us at the time," Cook said.
Cook was criticized for working to get the ban passed because he is in business with California tree nut growers who are buying land in Cochise County. He said the idea was not to close the door behind him.
The state rejected the request for the water limits. Robert Glennon, a University of Arizona water law expert, said the lack of regulation is why California farmers and others are moving in.
"What the smart money is doing is looking around and saying where else can we go where there is no regulation, where it is the Wild West and that is Arizona," Glennon said.
However, he does not accuse pistachio farmer Mark Cook of trying to close the door behind him.
"We haven't shut the barn door, I think that would be a good start," Glennon said. "That didn't happen over in San Simon. There was a chance there to say for the state to say 'enough is enough' and the state didn't do that."
Cochise County has one Irrigation Non-Expansion Area already in the Douglas area.
"That means that you have to have water rights that were established in the 1980s or you can't farm," County Supervisor Ann English said. "Water rights means 'X' number of acres that you are allowed to farm. Not 'X' number of gallons of water."
Different aquifers, different circumstances
Water in Cochise County comes from aquifers. From 2 percent to 3 percent of annual rainfall makes it into the aquifers. In some areas of eastern Cochise County, that amount can be higher.
Those areas are near mountains such as the Chiricahuas where water from snow and rain flows more readily into the aquifers.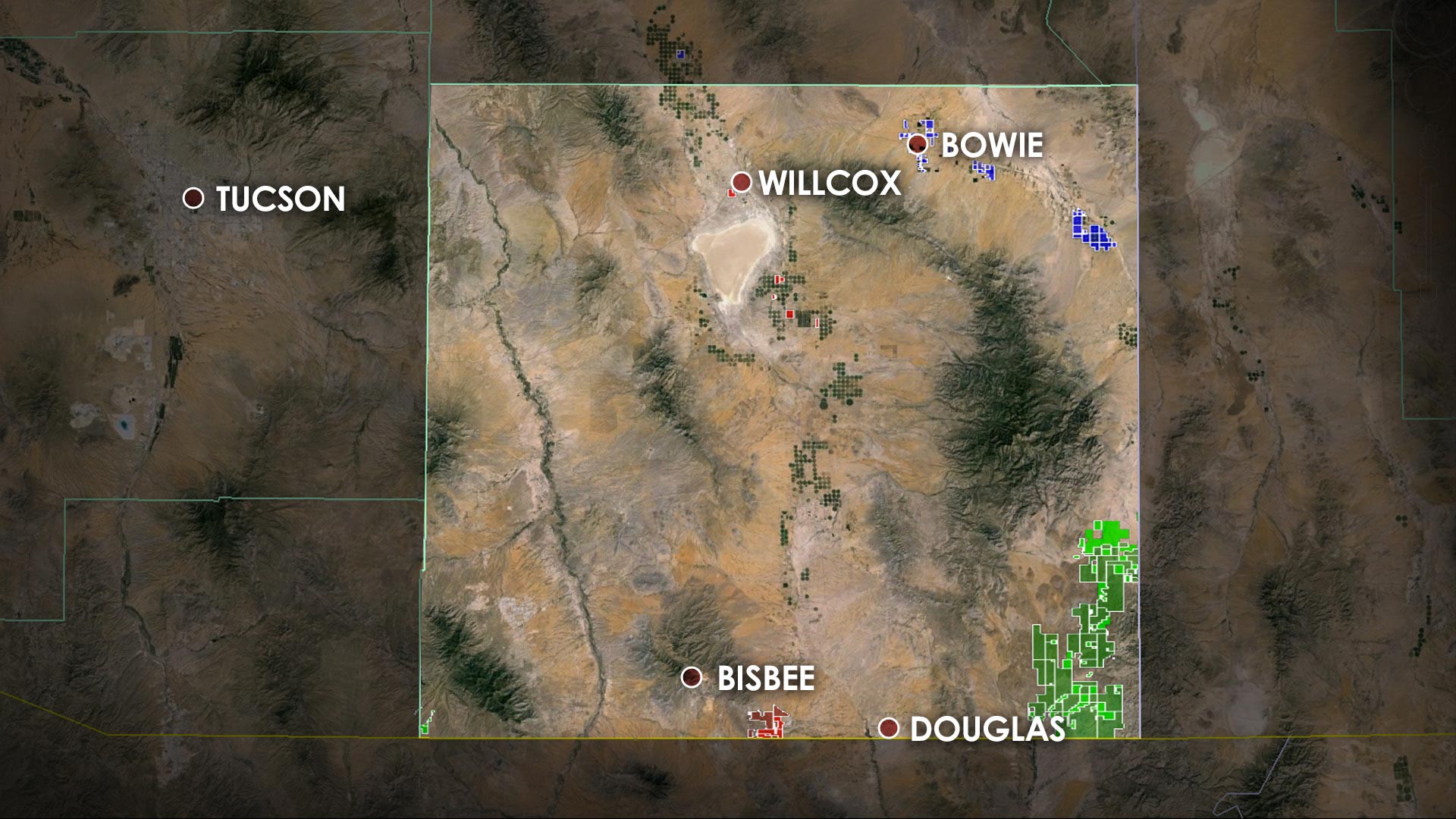 VIEW LARGER Three groups have purchased large portions of land in Cochise County since 2010. They include Mark Cook, a long-established pecan and pistachio farmer working with a California nut grower (blue); Howard G. Buffett, the son of billionaire Warren Buffett (red); and Stan Kroenke, a land and professional sports mogul (green).

AZPM Staff
Cochise County relies on a number of underground water sources.
"That is why when you talk about even a county of the state like Cochise or even Pima County you can't paint the picture with one brush stroke," said Sharon Megdal, director of the University of Arizona Water Resources Research Center. "There are different circumstances. They may be drawing on different aquifers."
When the wells in Bowie ran dry last year, some questioned if that meant the aquifer was empty.
The simple answer is no. The aquifer dropped below the level of the well. As aquifers are pumped lower and lower, the availability of water becomes an economics question.
"Many of our aquifers which are called basin and range aquifers, they are deep they are expansive. The issue becomes how deep can you go in terms of the cost of pumping? What happens to the water quality as you go deeper?" Megdal said.
Cochise County is known for agriculture, but many see a change on the horizon. Instead of growing crops some farmers could begin growing houses on their land. The conventional wisdom among water experts is that residential development uses less water than agriculture.
That may be changing. Agriculture is growing more drought resistant crops and using technology to reduce overall water usage.