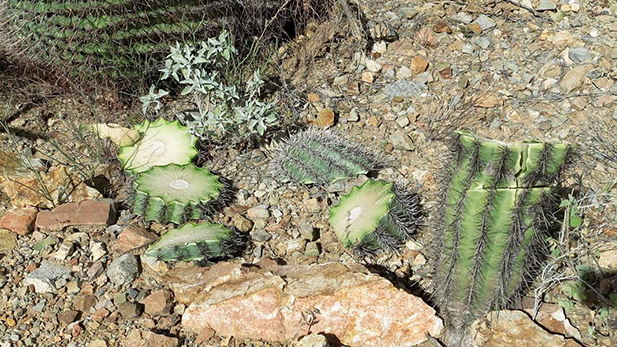 Saguaro National Park
Listen:
Saguaro National Park officials asked the public for help investigating an attack that damaged nine saguaro, six prickly pear and two buckhorn cholla cacti on a trail in Saguaro National Park West last week west of Tucson.
Chief Ranger Ray O'Neil said the cacti were found Saturday along the Gould Mine Trail, hacked apart with a sharp tool. He said he expects most to survive the attack, but not all.
"Two smaller [saguaros], about three- to four-foot tall, were actually cut cut into rounds like a log and those two saguaro we don't anticipate will survive," he said.
The two smaller cacti were probably 30 years old, O'Neil said.
The perpetrator could face six months in prison, a $5,000 fine and the park service could also seek civil restitution.
To report information about the vandalism, call 520.733.5118