Listen: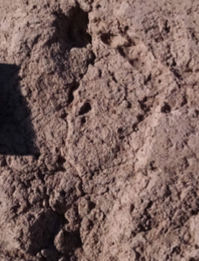 One of the footprints discovered at a road project site. (PHOTO: Courtesy Pima County)
Pima County discovered an archaeological site that dates back to at least 500 B.C. and will offer public tours of the finding this weekend.
The county was doing excavation work for a road project near Interstate 10 and Sunset Road when crews discovered evidence of ancient human activity at the site, officials said in a press release. The site has clearly visible human footprints and an agricultural field that dates back as much as 3,000 years.
The find is significant, so the county will offer public tours on seven upcoming days. The tours will be every 30 minutes between 10 a.m. and 2 p.m. on the following dates:
Sun. Jan. 24
Fri. Jan. 29
Sat. Jan. 30
Sun. Jan. 31
Fri. Feb. 5
Sat. Feb. 6
Sun. Feb. 7
A parking lot for the tours is on the southwest corner of I-10 and Sunset. The tour traverses uneven terrain and participants should wear closed-toe shoes and bring water, sunscreen and a hat.