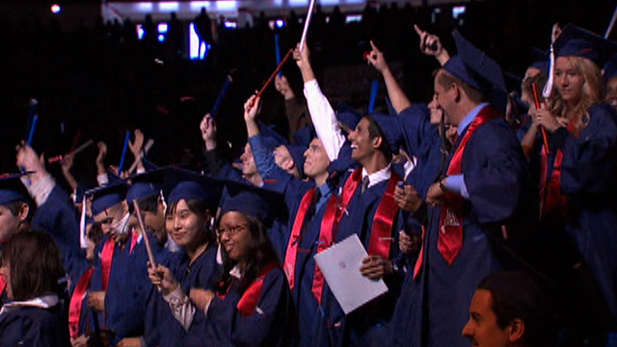 Students celebrate their achievements at a University of Arizona graduation ceremony.

AZPM
Listen:
Making college or technical degree programs more accessible, and ensuring students graduate, could pump an additional $7 billion into Arizona's economy each year, according to the non-profit group College Success Arizona.
"Arizona has a great opportunity in the next few years," said CEO Rich Nickel. "Forbes says it's going to be one of the best places for job growth. We're set up to explode, but only if we can get the people here that can fill those jobs."
The study outlines a number of priority areas.
First, Nickel said, the state needs to improve the K-12 pipeline.
"Today we only have 70 percent of those who start high school finish. That's well below the national average. And to be a high performer we need to be closer to 90 percent," he said.
Arizona is one of the only states in the nation without a financial aid program geared to let low-income or first-generation students have better access to college. Creating one would help make education more accessible, said Nickel.
The report stresses the need to close achievement gaps between racial and ethnic groups in Arizona.
Latinos will soon constitute the majority of working age adults in Arizona, but complete postsecondary degrees at lower rates than the state's white students.
"The state will never reach its goals if it doesn't raise the attainment rates of its fastest growing population," Nickel said.