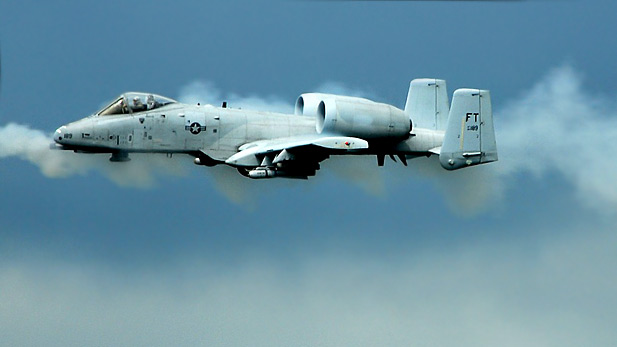 Fairchild Republic A-10 Thunderbolt II
Listen:
The Air Force will keep the A-10 aircraft active because commanders need it for the air war against ISIS in the Middle East, a defense industry publication reported Wednesday.
The A-10 is the main aircraft stationed at Tucson's Davis-Monthan Air Force Base, and Pentagon plans to retire it have stirred fears that it could jeopardize the base's future.
U.S. Rep. Martha McSally, a Southern Arizona Republican and a retired A-10 squadron commander, said in a news release that she was glad to see the Obama administration "coming to its senses and recognizing the importance of the A-10s."
McSally, a retired Air Force colonel, was the first female pilot to fly in combat for the U.S. military. She flew missions over the Middle East.
"With A-10s deployed in the Middle East to fight ISIS, in Europe to deter Russian aggression, and along the Korean Peninsula, administration officials can no longer deny how invaluable these planes are to our arsenal and military capabilities," McSally said in the press release.
Defense One, an online publication covering the military, quoted anonymous Pentagon sources as saying while the A-10 is still up for retirement, there's a demand for it in the Syrian conflict.
"Air Force officials say they still need to retire the A-10 to make room for newer warplanes, but that the calculus for its sunsetting has been thrown off by commanders' demands for the Warthog now," Defense One reported. "Putting the A-10's retirement plans on hold is a key policy shift that will be laid out next month when the Pentagon submits its 2017 budget request to Congress. ... "