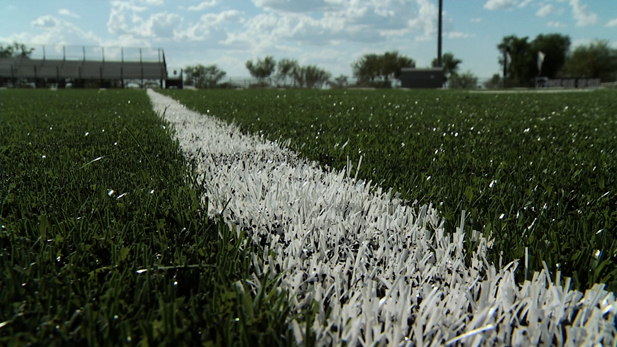 An artificial turf field is being used at many local high schools in place of real grass fields.

AZPM
Listen:
Researchers from Phoenix-based Banner Alzheimer's Institute and Mayo Clinic Arizona will take part in a study of chronic traumatic encephalopathy, or CTE, a degenerative brain disease caused by repeated head injuries and often found in former football players.
The study will involve extensive clinical examinations of former college and professional football players.
Football players face a high risk developing CTE, which can result in changes in behavior, mood and memory, and may lead to dementia or Parkinson's disease.
The only way of detecting the disease now is with an autopsy.
"We believe that understanding the clinical features of CTE would be helpful for patients and family caregivers to know about," said Eric Reiman, executive director of the Banner Alzheimer's Institute.
"We believe it would be more helpful to understand what happens to individuals over time, and some of the microscopic abnormalities that have been detected after life may be amenable to some of the same treatments that are being developed for other neurodegenerative diseases at this time," Reiman said.
The ability to diagnose CTE could ultimately lead to treatment, and, perhaps one day, enable its prevention it all together, he said.
The study is being funded by a $16 million grant from the federal government. Physicians and scientists from Boston University, the Cleveland Clinic and New York University will also be involved.