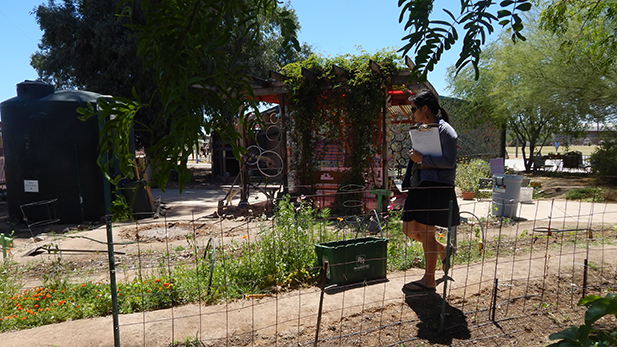 Molly Reed, an outdoor learning teacher, walks through Borton Primary Magnet School's garden.

Emily Huddleston, AZPM
Listen:
The U.S. Department of Agriculture this week awarded Tucson Unified School District almost $100,000 to boost its Farm to School program.
The federal program aims to improve school's access to local foods and will distribute $4.8 million to projects in 39 states.
TUSD worked with the Community Food Bank of Southern Arizona on a grant from the same program in 2012. The new grant will help the district build on that work which included purchasing more produce from local farms and establishing school gardens.
"Our focus will be to expand our outreach and expand the program so that we will have a sustainable system," Food Services Director Shirley Sokol said.

TUSD will continue to partner with the food bank to buy from a network of 20 farmers who form a collective to sell to the district.
The district will also look to its school gardens as a source for fresh produce. While many schools have gardens, only a few are certified by the Arizona Department of Health Services to serve their harvest on campus.
"When they're certified then we can tie them into our TUSD menu," Sokol said.
Four schools– Borton Magnet School and Manzo, Wright and Mission View elementary schools – are certified. The district plans to double that number in the next year.