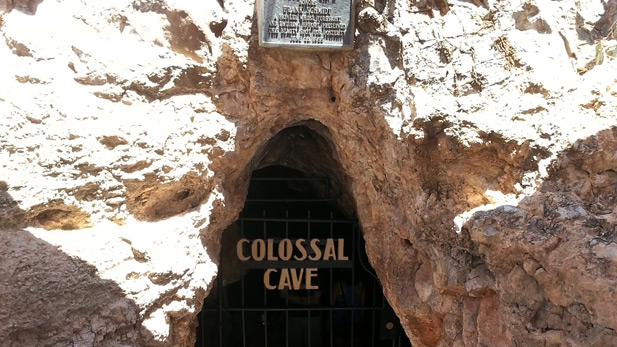 There are $3 million in improvements for Colossal Cave Mountain Park in the recommended 2015 bond package.

PHOTO: Laura Markowitz
Listen:
After a 90-day closure Colossal Cave Mountain Park reopened to the public.
The park was closed so management could focus on renovations.
Park Manager Brain Held said the new features improve perception of the park to patrons.
"What we focused on was the new visitors center, gift shop, cleaning the cave, and eliminating the tollbooth fee," Held said.
The elimination of the entrance fee will save visitors to the park $5.
Loss of income and an illegal killing of a mountain lion caused the county to reconsider its management, said Pima County Tourism Manager, Mike Holmes.
"We did an audit on the park to examine how we did things, and it was not good," Holmes said. "The park had been going downhill for several years and the park was not going anyplace good."
The county gave management of the park to a company called Ortega National Parks. A move that saved the cave Holmes said.
"Every since Ortega took control of the park they have been doing those renovations and making money," Holmes said. "Ortega making money is good because they can fix the roads and fix the buildings that need to be fixed to keep this the peoples' park."
The new additions to the park are step one of four phases to improve visitor experience. Future additions will include zip lines, mountain bike rentals, and a beer and wine garden.
Held said the goal of the park is to make a trip to Colossal Cave an all-day affair.
"This is a great place to take your family," Held said. "It is great to go on a cave tour but we want families to spend the day here. They will have a hell of a time."