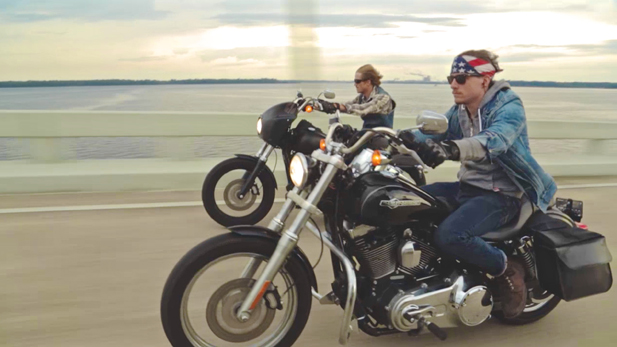 Friends and fellow combat vets Doc King (left) and Daniel Egbert (right/front) set out on a 6,500-mile motorcycle journey to raise awareness about veteran suicide and to explore treatment options for post traumatic stress.

Courtesy of Medicinal Missions
Listen:
In "Project 22", Two Friends Find Hope for Fellow Combat Veterans
When Matthew "Doc" King and Daniel Egbert crossed paths on a movie set in New York City, they didn't realize how much they had in common.
Both had served in the post-9/11 conflicts in Iraq and Afghanistan – King as a U.S. Army combat medic, and Egbert as a Marine infantryman. And both were struggling with post-traumatic stress.
"There was a real dissonance between my new perspective and the life I was trying to go back to," King says. "[My experiences] had fundamentally changed who I was."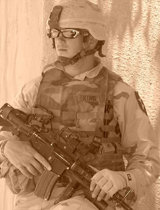 Matthew "Doc" King served as a U.S. Army Scout medic while deployed to Iraq from 2004 to 2005. (PHOTO: Courtesy of Medicinal Missions)
The two shared their experiences and difficulties, and quickly became roommates and close friends. After King moved to Los Angeles and Egbert completed a fourth deployment, the difficulties worsened—and nearly claimed Egbert's life.
"I was isolating and self-sabotaging," Egbert says. "And then, ultimately, what started Project 22 was I attempted suicide twice."
"Project 22" is a reference to the often-cited statistic, drawn from a Department of Veterans Affairs study, that 22 veterans die by suicide every day.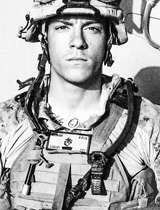 Daniel Egbert served in the U.S. Marine Corps for seven years, with deployments to Iraq and Afghanistan. (PHOTO: Courtesy of Medicinal Missions)
For King and Egbert, Project 22 was a dream they had long discussed: a motorcycle journey from San Francisco to New York City, through which they would raise awareness about and explore the reasons behind the epidemic of veteran suicide.
They hoped to turn their search for healing into a documentary, so they assembled a barebones production crew and crowdsourced funding for the project.
Only a month and a half after Egbert's suicide attempts, the duo hit the road.
Over 6,500 miles and 22 days, they filmed interviews with researchers, mental health care providers, and veterans. They tried equine therapy, meditation, sailing, and other alternative approaches to easing the pain of post-traumatic stress.
What they found changed their lives, says Egbert.
"They always say helping is healing, but I didn't understand that until Project 22," he says. "The things we found on the road ... opened up my mind and my heart again and made me have hope again."
The film, titled Project 22, is now screening in theaters and schools across the country.
A free screening presented by the University of Arizona Veterans Education & Transition Services will take place this Sunday, November 8 at 6 p.m., at the Fox Tucson Theater.