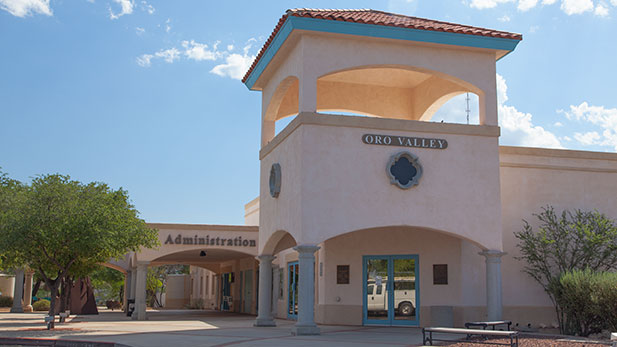 azpm
All four incumbents in the Oro Valley Town Council recall election held slim to wide leads in their respective races on Wednesday morning.
Mayor Satish Hiremath held a comfortable lead over challenger Pat Straney. Hiremath had 50.7 percent of the vote to 43.5 percent for Straney. Joseph Winfield, who dropped out of the mayoral race after it was too late to have his name removed from the ballot, had almost 6 percent.
In other races, Councilman Joe Hornat led recall organizer Ryan Hartung by 1 percentage point.
Councilman Lou Waters led Steve Didio 51 percent to 48.6 percent, and Councilwoman Mary Snider had 50 percent to 35.5 percent for Shirl Lamonna and almost 14 percent for Doug Burke.
The recall was driven by the town's purchase of El Conquistador Country Club, which Hiremath and the three council members voted for.
Oro Valley Town Council's first public discussion of the deal came on Dec. 3, 2014. Two weeks later, the purchase passed the council on a 4-3 vote, with Council Members Mary Snider, Joe Hornat, Lou Waters, and Mayor Satish Hiremath voting in favor.
Hotel and apartment management company HSL Properties was contemplating a purchase of the El Conquistador Resort and Country Club out of foreclosure prior to the vote, with the intent of selling the non-resort portion to Oro Valley.
Negotiations on the deal were kept private until the Dec. 3 meeting.
"They had a non-disclosure agreement, basically," Hiremath said. "So this came to us way late in the game, and they said, 'We're going to sign on the dotted line to purchase the Hilton and if you want the golf course, we're going to do that Dec. 18.'"

For complete local election news covering Tucson, Oro Valley, and Pima County,
click here
.