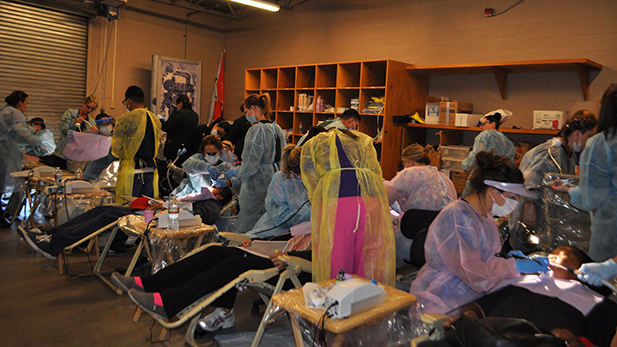 200 volunteer dentists and hygienists will provide free teeth cleanings, extractions and cavity fillings at the 23rd annual Hope Fest Saturday. (Photo courtesy of Hope Fest)
Tucson is one of the poorest cities in the U.S., which means there are many people in need in this community. Vanessa Barchfield reports that a charity event this weekend strives to help Tucsonans who are having a hard time making ends meet.
Listen:
More than 16,000 people are expected to attend the 23rd annual Hope Fest this Saturday.
Most years. the longest lines are for the dental tent, where people can get their teeth cleaned or pulled and cavities filled for absolutely free.
Event Coordinator Lisa Chastain said people in need often have a hard time getting dental care.
"There are very few services that even offer dental at a discounted rate. There's nowhere you can go for free dental except for HopeFest," she said.
In addition to dental services, HopeFest attendees can also get medical care, have their hair cut and take home food and clothing.
Ahead of the charity event, organizers are asking the community for donations of what Chastain called the basic necessities of life:
canned foods
personal hygiene items
clothing
bottled water
toys
diapers
Donations are being collected Friday at Kino Stadium from 7 a.m. to 7 p.m.
HopeFest will take place from 9 a.m. to 2 p.m. on Saturday, also in Kino Stadium.