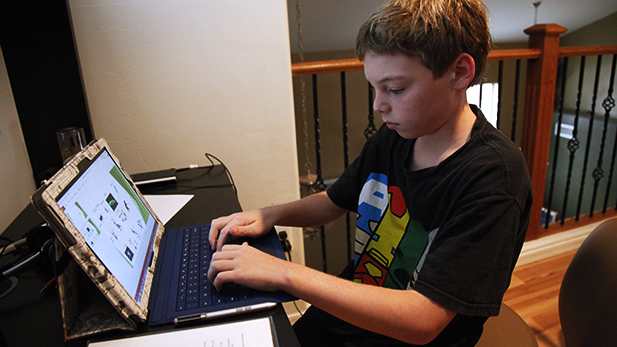 Ricky Helmboldt,12, works on food web on his tablet computer at home. He says science is his favorite subject.

Mariana Dale, AZPM
Listen:
Twice a week, 12-year-old Ricky Helmboldt rolls out of bed at 4 a.m. An hour later, he's in the pool at the University of Arizona for swim practice.
Then it's back home and back to bed. For Ricky, school starts when he gets up from his nap.
Ricky and his two sisters are in competitive sports and they're a few of the nearly 50,000 kids enrolled in at least one Arizona online class. The Helmboldt family attends Arizona Connections Academy.
"I notice a lot of our new students have very unique reasons why they come to online – whether they're very active in club sports or whether they've had some sort of a medical situation or they've just had some problems acclimating and socializing," said Kerri Wright, the principal of Arizona Connections Academy.
The school is growing. In Pima County, the Arizona Connections Academy reports enrollment is up 24 percent in the last year.
In Arizona there are 21 online charter schools and 34 districts that offer virtual classes, the Goldwater Institute reported in April.
"We attract students who already are behind, especially at the high school level," Wright said.

Wright said that is one reason online schools can struggle with retention rates and higher dropout rates than in-person schools. For example, Arizona Connections Academy has a 38 percent 4-year graduation rate. The state rate is 75 percent.
The Arizona State Board for Charter Schools ranked the school as "does not meet standard" for the most recent three years.
Ricky's Mom, Dianna Ranelli says she's aware of the state's grading, but she isn't worried about her kids.
"I feel like the curriculum has taught my kids more than what they were learning in public (in-person) schools," Ranelli said.
She noted her son completed nearly two years of math curriculum in his first year of online school. As a 7th grader, he is already taking high school courses.
Online education requires 'family commitment'
Online schools count not only on parents and teachers, but also counselors to engage students.
"A lot of them are coming from a traditional school environment where they have to ask to go to the bathroom and all of a sudden they have all this freedom to be able to do their work when they want to," said Misty Little, a counselor at Arizona Connections Academy.
Little helps students sign up for the right classes and reviews transcripts like any traditional counselor would. She also helps students figure out how to work productively at home. That could mean moving the computer away from the television.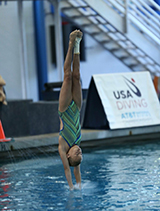 Samantha Helmboldt, 11, is a nationally ranked diver. Online school allows her to keep up with class even with out of town competitions. (PHOTO: Courtesy Dianna Ranelli)
"It's really a family commitment when they decide to enroll in our school– everyone needs to be prepared," Little said. "I do hear that from parents a lot who say I didn't think this would take as much of my time."
For Helmboldt family, online education "very rewarding"
Ranelli said she never imagined she would educate her children at home.
"I was one of those that said 'no, they need the socialization, they need to learn they need to work it out,'" Ranelli said. "I've chosen to eat those words."
Each child has their own reason to like the set-up.
Ricky is a science buff and said he is glad for the flexible schedule. Swim practice takes up almost a dozen hours of his week.
"I can get some extra work done, I can work at my own pace I can like, if I miss some work yesterday I can always make it up over the weekend," Ricky said.
Sister Samantha Helmboldt, 11, is a nationally-ranked diver.
"My friends get jealous of me cause I'm like 'I do my schoolwork in my bed,'" Samantha said.
Samantha said even though she is in 6th grade, online school allows her to advance to 7th grade math.
The youngest, Kennedy Helmboldt, 7, swims and dives. She said online school has some advantages over going to a traditional class.
"You couldn't get ahead and you had to skip school if you were going away for a few days," Kennedy said.
For the Helmboldts, who are gone almost every weekend for a family member's competition, missing school was inevitable.
"Does it make our schedule easier for us right now? Yes, but there are so many benefits to the online school for our family that even if they quit the sports they are in right now or moved on to something else, I'm not sure I would rush right back to putting them into school," Ranelli said.

Kennedy Helmboldt, 7, is already diving and competing in gymnastics. She is the youngest in the family and her mother said she needs the most support in completing the online course work.

Courtesy Dianna Ranelli