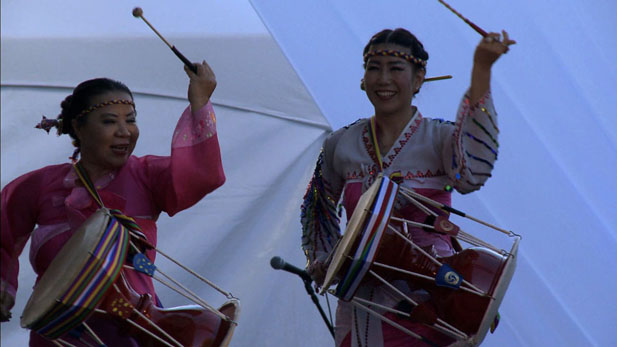 A drum group performs at the 2013 Tucson Meet Yourself.

AZPM
Listen:
By Julianne Stanford, AZPM student intern
Downtown Tucson will give way this weekend to large crowds, loud music and the smells of mouth-watering food, all at the 42nd annual folk life festival Tucson Meet Yourself.

Locals and out-of-town visitors alike will converge at the old Pima County Court House and the Pima County Public Library Friday, Saturday and Sunday to immerse themselves in the many cultures that comprise the Tucson community.
"The festival is a celebration of traditional cultures in the most authentic and respectful way possible. It's a forum for cultural democracy," Festival Director Maribel Alvarez said. "There's no hierarchies of cultures, It kind of states that every culture is rich in its own ways."
Through its longevity, the festival has become a community icon.
"I believe that one of the things that makes Tucson Meet Yourself so enduring as a cultural activity and so endearing to people is that it is owned by everybody," Alvarez said. "It's an event that while it has a lot of organization behind it, we always feel like we're working for this broad representation of community members."
Among the 90 performing groups, 60 food vendors, 20 cooking demonstrations, 100 artists and 80 community exhibits, there will be something for everyone to see and do.
One of the most popular aspects of the festival is the abundance of cultural food stalls where people can take their taste buds around the world. Festivalgoers can try Turkish coffee, Japanese dumplings, Polish pierogies, and French pain au chocolat, among many other delicacies.
People can even learn how to make traditional cultural meals step-by-step at a live demonstration kitchen.
The festival is not just about food, though. Local performers will take the stage with traditional dance and musical performances.
Additionally, there will be a wide variety of vendors, including local farmers selling goods such as honey and natural beauty products. Folk artists will sell their wares and give live demonstrations of their crafts.
Various non-profit organizations will have the opportunity to use the festival as a platform to discuss issues in the community. Pima Animal Care Center will have a booth to talk about the health and well being of pets.
"We will have a few dogs and hopefully some puppies for adoption, or people can just visit with them," Adoption Coordinator Ellie Beaubien said. "Mostly we'll be talking about the need in the community for people to help us with out homeless pets.