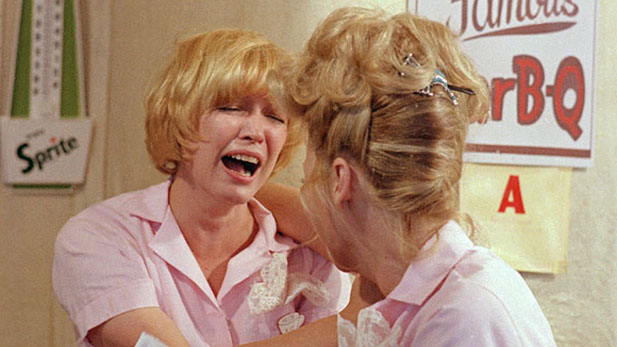 Ellen Burstyn and Diane Ladd in a scene from "Alice Doesn't Live Here Anymore"
Featured on the October 2, 2015 edition of ARIZONA SPOTLIGHT with host Mark McLemore:
What are some of the special challenges first-generation college students face in completing their higher education? Mark McLemore talks with Juan Garcia, a professor at the University of Arizona who was the first in his family to graduate college, and Nubia Gonzalez-Villalba, a 3rd year student at the U of A who is making her family's college dream come true...

The acclaimed Martin Scorsese film Alice Doesn't Live Here Anymore was filmed in Tucson forty years ago. The Tucson Festival of Films presents an anniversary screening of a restored print of the film at the Loft Cinema on October 10th. Mark McLemore talks with the film's star Ellen Burstyn, who won a best actress Oscar, and her co-star Diane Ladd, who created the memorable character of Alice's streetwise waitress mentor Flo...

And, what is the Tucson Festival of Films, anyway? Chris Dashiell looks at some highlights of this month's inaugural event, that provides a new way to explore the large number of independent and foreign movies that play in Tucson each year as part of eight other local film festivals...
Listen:
Listen to the complete show:
Listen to Ellen Burstyn talk about Same Time Next Year, playing the role of God, and working on director Christopher Nolan's film Interstellar:
Listen to Diane Ladd talk about her new book of fiction, her career as a director, working with Bruce Dern and Laura Dern, and what she would most like to do beyond acting:
ARIZONA SPOTLIGHT
airs Fridays at 8:30 am and 6:00 pm, and Saturdays at 5:00 pm, on NPR 89.1 FM / 1550 AM.

University of Arizona student Nubia Gonzalez-Villalba and history professor Juan Garcia talk to Mark McLemore about being the first in their families to attend college.

Jim Blackwood