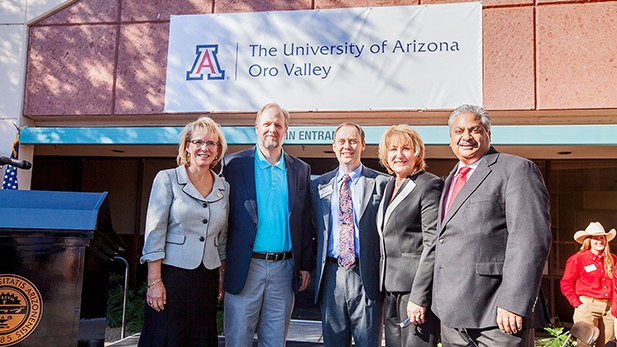 UA and Oro Valley officials at the future home of the state's first public veterinary school in Oro Valley. From left: Senior VP/Research Kimberly Andrews Espy; veterinarian and UA alumnus Dr. Michael Ames; CALS Dean Shane Burgess; UA President Ann Weaver Hart; Oro Valley Mayor Satish Hiremath.

John de Dios/UA
Listen:
A University of Arizona campus in Oro Valley will be home to the state's first public veterinary school, officials announced Monday.
Preparations for the program began last year after the university received a $9 million gift from the Kemper & Ethel Marley Foundation.
Shane Burgess, dean of the UA College of Agriculture and Life Sciences, said research on the campus will not just focus on animal health.
"Seventy-five percent of human infectious disease, pretty much everything you hear about on the news actually has an animal origin," Burgess said.
Clinical research at the site will focus on health of both humans and animals and how disease moves between species.

"It's all about prediction, prevention and diagnosis for disease," Burgess said.
He said Oro Valley's focus on the biotech industry and its proximity to global bioscience firms were significant factors in locating the school there.
The UA will host accreditors in January, and Burgess said if all goes according plan, students will be able to matriculate next fall. Classes and clinical training will move to the Oro Valley campus in 2017, after an $8 million renovation of the facility.