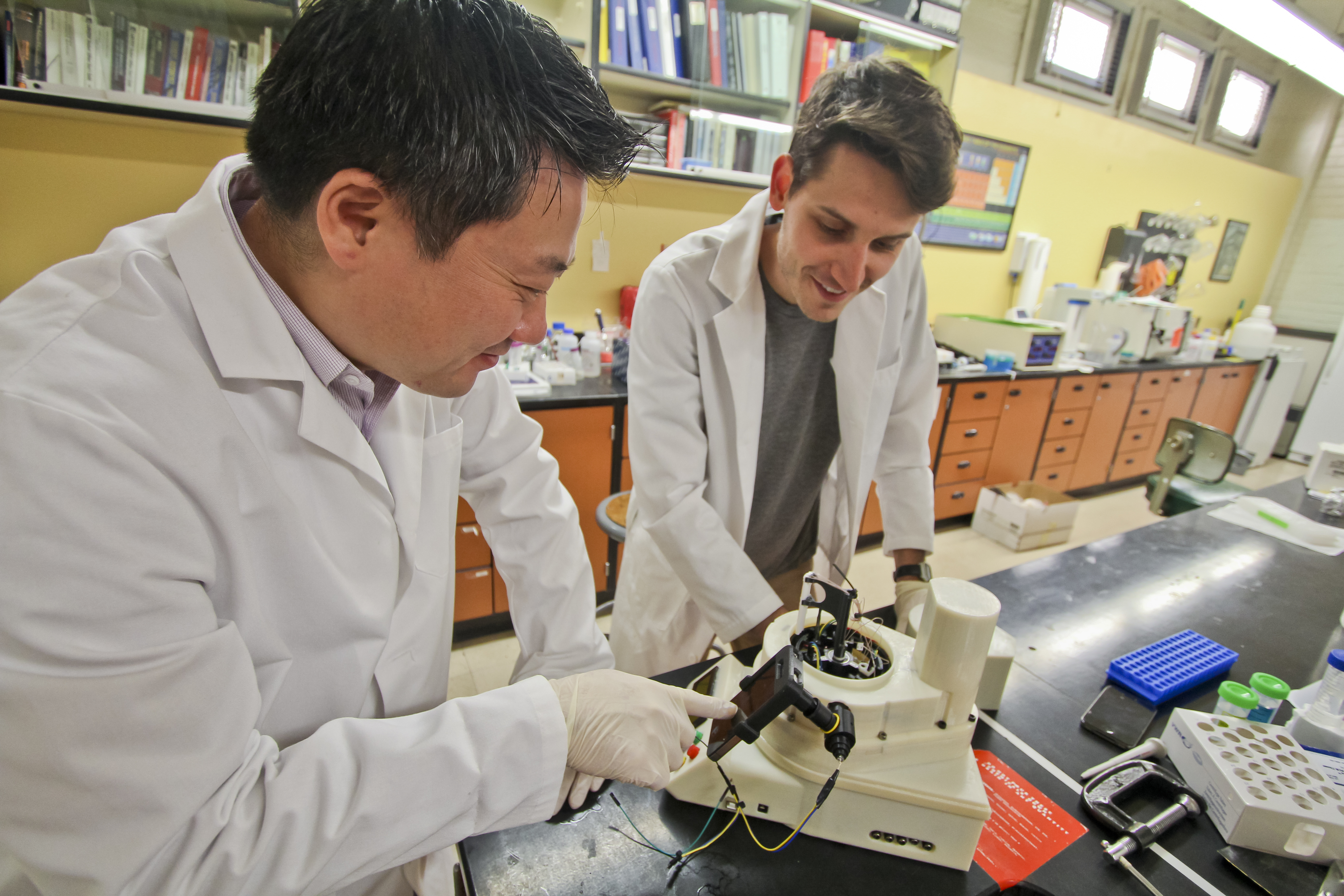 UA biomedical engineering professor Jeong-Yeol Yoon and Dustin Harshman work on infection diagnostic device

Pete Brown/UA College of Engineering
Listen
By Sara Hammond, Arizona Science Desk
Biomedical researchers at the University of Arizona have developed a device to more quickly diagnose infections in hospital patients.
The diagnostic device is the product of doctoral research by Dustin Harshman and the UA's biomedical engineering department, under the direction of professor Jeong-Yeol Yoon.
With a smartphone, the device enables a physician to correctly diagnose an infection and order the appropriate drug to fight the bacteria. The smartphone's camera observes as the sample is heated and measures its DNA to identify what causes the infection.
Harshman said the goal of the development was to "create a device that's capable of providing physicians with answers as soon as they perform the biopsy. And we want them to have the information while they are still sitting with the patient."
The researchers say they expect their invention to be commercially appealing because it is faster, more efficient and less expensive than options used now. The UA device can produce results in less than five minutes, compared to an hour or more it takes current technology.
Harshman said a quick diagnosis can keep infection from spreading to other patients at a hospital or clinic because treatment can be started immediately.
Harshman said another benefit of the system is that is does not require samples to be completely free of other contaminants.
"The system still works with relatively dirty samples," Yoon said. "We can use very minimal processing and still make the detection in a short time."
The Arizona Science Desk is a collaboration of public broadcasting entities in the state, including Arizona Public Media.