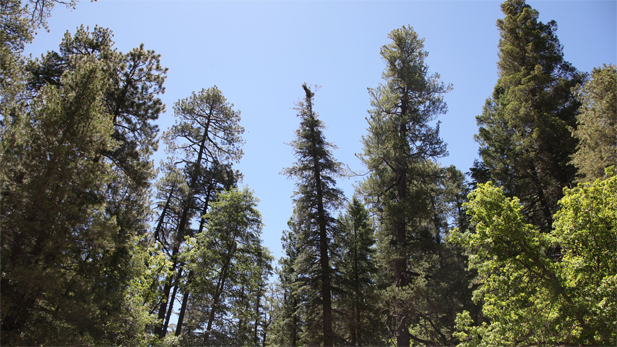 Mark Duggan
Listen:
By Andrew Bernier, Arizona Science Desk
Measures to thin Arizona forests to lessen wildfire dangers are finally getting under way after a decade of record-setting fires and forest land tragedy.
The first piece of evidence is northwest of Flagstaff, where Northern Arizona University's Ecological Restoration Institute, or ERI, oversees a test plot for study of forest thinning and its ecological effects. Surrounded by a control area of small trees, towering ponderosas stand alone in open grasses.
"I think the oldest dated tree here goes back to 1555," said Tayloe Dubay of the institute. "About 350 (years) is the average. We're able to measure an increase in resin production, which helps them protect against bark beetle invasion."
The trees ooze with sap and show no evidence of bark beetle damage that has marred parts of the neighboring forest. In addition to the trees keeping themselves healthy, Dubay said, there are other benefits of thinning to allow natural fire the way it was a century and more back when not all fires were fought.
"Fire helps with soil regeneration and the positive effects of nitrates," she said. "If you look here at the amount of lupin and other wildflowers, this is the burned and thinned."
The cut and burned plots showcase a great diversity of flowers, supporting more insects and pollinators in contrast to the control area where small trees rob sunlight and water.
ERI Director Wally Covington described what Arizona forests used to look like.
"What you see is open park-like stands, dominated by old-growth trees with a lush understory of grasses, wildflowers and shrubs that were maintained in that condition by natural, frequently occurring, low-surface fires," Covington said.
The Four Forest Restoration Initiative is a public-private plan to take the samples of restoration to a much bigger scale, with a goal to thin 2.4 million acres of Arizona forests that have grown 10 to 30 times their normal density.
Covington said when the small trees are removed, the difference is immediate.
"The canopies just look healthier," he said. "And immediately post burn you see increases in ammonium and nitrate, increases in phosphorus availability, potassium availability and water availability."
Those increased elements lead to more nutrition. Grass after burning has near 14 percent protein content, compared with 6 percent pre-fire, research showed, making a more nutritious landscape for diverse wildlife.
Big fires also scorch soil, diminishing quality.
"The worst outcome ecologically is when you lose the soil base," Covington said. "Soils build up over tens of thousands of years. Houses can be rebuilt in years. So when you look at it from a social-ecological perspective, save human lives, save infrastructure, save critical wildlife habitat, but pay attention to the watersheds."
The watersheds are critical, not only in the forest, but in the valleys below, said Dick Fleishman with the U.S. Forest Service.
"Almost all the water for the city of Phoenix is produced up here," Fleishman said. "So, having a healthy forest and a healthy watershed directly affects the people in the valley."
For the first time, firefighting is now more than half the Forest Service's budget. Last month, it shifted $250 million from regular activities to help replenish the $1 billion fire budget. That will lead the Four Forests project to depend on private contractors for thinning.
Removing small trees and not large ones, Fleishman said, the timber industry will have to get creative to make a profit.
"They can't just make boards out of it," he said. "They got to do a whole bunch of different products, soil amendments, pellets, energy. The needles, the limbs, everything, the bark, decorative bark actually has value.
The selective cutting of small trees to recreate landscape patterns is time consuming, but mixing canopy densities with meadows increases fire resistance and species habitat, the scientists said.
With strategic placement of treatments, it may be 35 years until Arizona returns to manageable wildfires and restore what healthy Southwest forests should look like.
The Arizona Science Desk is a collaboration of public broadcasting entities in the state, including Arizona Public Media.