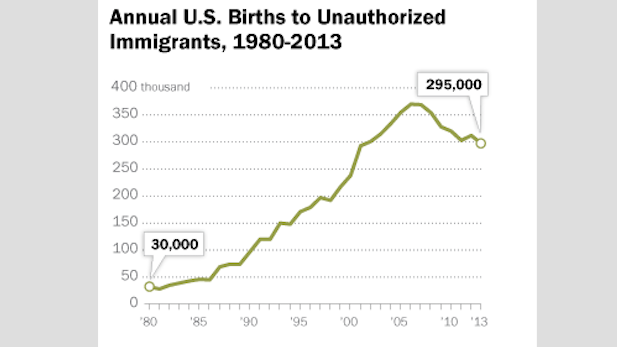 (PHOTO: Pew Research Center)
Listen:
By Kate Sheehy, Fronteras Desk
The number of babies born to undocumented immigrants in the United States has decreased steadily since peaking in 2007, and dropped below 300,000 in 2013 for the first time in more than a decade, a new study reports.
The Pew Research Center reported that 295,000 babies were born to undocumented immigrant parents in 2013, making up 8 percent of the nearly 4 million births in the U.S. that year. That was a drop from the peak in 2007 when they made up 9 percent of total births.
Pew researchers said the change followed the overall population trends of undocumented immigrants, whose numbers have declined since the mid 2000s.
Births of babies to undocumented immigrants have become controversial in the early stages of the 2016 presidential campaign, with several Republican candidates, led by Donald Trump, saying that "birthright" citizenship should be repealed because they said it encourages illegal immigration.
A baby born in the U.S. is automatically granted citizenship under the 14th Amendment, known as birthright.