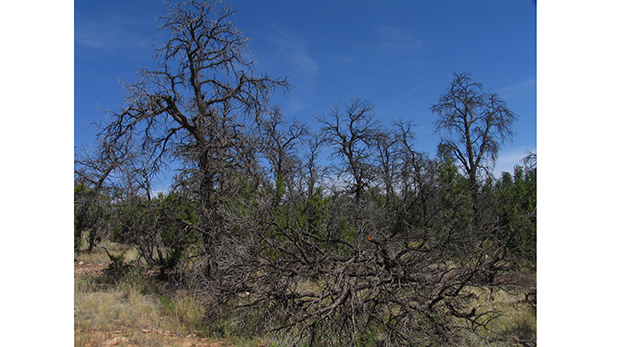 Dead pinyon trees, with smaller surviving one-seed juniper, in the Jemez Mountains of New Mexico.

Craig D. Allen, US Geological Survey
Listen
By Sara Hammond, Arizona Science Desk
Forests worldwide are vulnerable to growing risks of drought and heat-induced tree mortality because of a steadily warming Earth, reports a study that a University of Arizona natural resources professor contributed to.
Scientists at the U.S. Geological Survey and Los Alamos National Laboratory along with the UA's Dave Breshears looked at more than 400 research studies on forest mortality. They wanted to answer the question: are forests becoming more vulnerable to projected climate change?
Their findings were published in the scientific journal Ecosphere and recently presented to the Ecological Society of America.
"As scientists, we are underestimating how much of this is going to happen in the future. We're in for a lot more tree mortality in the future," Breshears said.
Breshears says trees have an aesthetic value, such as for shading and providing microclimates in urban areas such as Tucson. But trees also play a key filtering role in the ecosystem, especially in light of climate change.
"The problem with warming is having too much carbon in the atmosphere, so trees are also a source of holding carbon and sort of keeping the warming in check or minimizing how much carbon is going into the atmosphere," he said.
Forest die-off events to date represent only the beginning of an increasing phenomenon of such mortality episodes. While trees have processes to allow them to survive drought stress, during hotter droughts, the warmer temperatures increase the stress and mortality risks.
"At some point during these hot droughts or during heat waves we're pushing trees over the edge," Breshears said.
Breshears says he and his colleagues hope their work will be used by scientists and policy makers to figure out how to reduce global warming.
The Arizona Science Desk is a collaboration of public broadcasting entities in the state, including Arizona Public Media.