Listen
The city of Tucson will offer tax amnesty to delinquent business owners, starting next month.
Businesses can submit delinquent sales tax or license fees without penalty, and with reduced interest on delinquent balances. The city also will allow businesses that are not licensed to get licensed without penalty.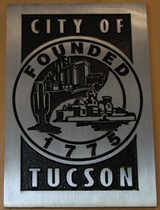 Tucson city seal. (PHOTO: Andrea Kelly)
The amnesty runs from Sept. 1 to Oct. 30.
"It's a good way for people out there who have maybe been struggling a little bit, to consider this as an opportunity to go ahead and maybe unsaddle themselves of their tax debt," City Revenue Administrator Joel Peterson said.

Peterson said the program gives business owners facing delinquencies the chance to "get rid of the penalties and possibly a good deal of the interest."
Any Tucson business with delinquent license fees, tax license fees and city sales or use taxes that are due by Sept. 1 is eligible for consideration.

Tucson ran a tax amnesty program in in 2006, and nearly 600 businesses took part.
To participate, business owners must complete an Amnesty Application Form and send it to the City of Tucson. The form can be found at www.tucsonaz.gov/finance/amnesty.
For further information, call the Tax Audit Section at 791-4681 or e-mail questions to TaxAmnesty@tucsonaz.gov.