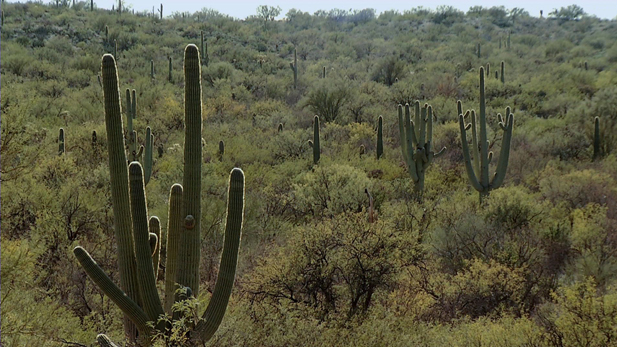 Just a small portion of the Saguaro National Forest conservation area.

AZPM
The National Park Service is planning one year of celebrations to commemorate the founding of the agency on August 25, 1916.
In the Tucson area, officials from Saguaro National Park are spreading the message about that facility and many other federal parks and monuments.
There are more than 400 nationwide and more than 20 in Arizona including the world-famous Grand Canyon National Park(http://www.nps.gov/grca/index.htm), Petrified Forest National Park and Canyon de Chelly National Monument.
Andy Fisher is the public information officer for Saguaro National Park and she said southern Arizonans are lucky to have many public lands nearby.
"Just in Tucson, the entire basin of Tucson is surrounded by public land. It just so happens on the east side and the west side it's Saguaro National Park that's surrounding it," Fisher said.
"But if you travel an hour and a half in any direction you can hit another national park. So you have Organ Pipe that's only three hours west of here. Tumacacori National Historical Park is just 45 minutes south of here. Go up towards Tonto, go towards Casa Grande, head out towards Chiricahua. Within a day's drive you've got a national park in any direction."
Fisher said the parks and monuments across the country can help visitors learn about history, civil rights, integration and other topics in addition to nature.
Saguaro National Park and others will be holding multiple events leading up the centennial in 2016.
One of the major events in Tucson is scheduled for March 2016 to tie into Saguaro National Park's anniversary.
President Herbert Hoover established Saguaro National Monument by presidential proclamation in 1993. It became a park in 1994.