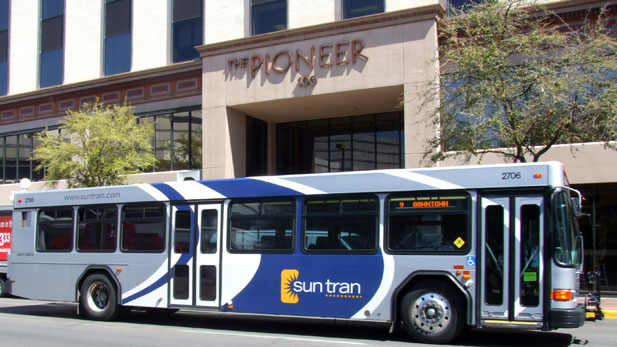 Both sides in Tucson's 12-day-old municipal bus strike stood firm Monday on their proposals, which remained far apart on issues of wages and working conditions.
Sun Tran management asked over the weekend for a mediator to schedule talks Monday on what it has called its firm and final offer. The Teamsters Union's response was that it wants a better offer or it won't meet.
Thus, no meeting was scheduled to get the city-owned transit system back to full operations.
City Councilman Steve Kozachik sided with management.
"Sun Tran has put an offer on the table that I think is eminently fair," Kozachik said. "The Teamsters need to understand that that's what's in the budget, and they need to get back to work."
Listen to Kozachik's statement:
Councilwoman Karin Uhlich, who has led the City Council's opposition to bus fare increases that could provide more revenue, said there was little room for movement.
"We need to make sure and continue to make sure that the Teamsters have accurate, full information upon which to base their demands," Uhlich said. "It's a very complicated budget, and there is not a lot of money available."
Listen to Uhlich's statement:
The city owns the bus system, and contracts with Professional Transit Management to run it. The system gets federal funding, and under federal rules, city officials cannot get involved in the negotiations.
The strike started at midnight Aug. 5 and shut down all but eight of the system's 43 bus lines. Normally, buses carry 66,000 passengers a day, while under the limited strike service, the number has been 14,000, Sun Tran officials have said.
The strike does not affect other Sun Tran operations, including the streetcar, Sun Van door-to-door service for the elderly and disabled and the Sun Shuttle, which reaches outlying areas, including Green Valley.