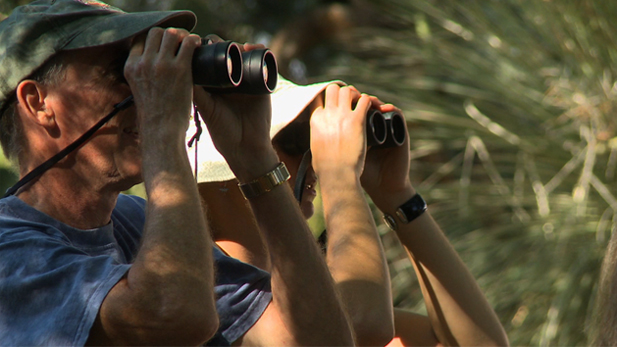 Birdwatchers look at Tucson wildlife from a distance.

AZPM
Listen:
Birding is a multibillion dollar industry in the United States and southern Arizona is getting a piece of that pie this summer.
The Tucson Audubon Society is holding its annual Tucson Bird and Wildlife Festival this month which hopes to attract more than a thousand adults and children.
The event started in 2011 and has been growing since with activities such as field trips, workshops and a free nature exposition that is open to the public.
Bete Jones is the outreach manager for Tucson Audubon Society, which describes Tucson and southern Arizona as a birding hotspot where hundreds of local and migrating birds can be seen.
While August may not seem like an ideal to attract visitors to southern Arizona, Jones said the typical combination of summer sunshine, warm temperatures and thunderstorms is a boom to nature and wildlife.

Many plants and insects become active and so do birds and their human fans.
"We're offering 28 different field trips during the festival and when I opened registration on March 1 basically in about three or four days most of the field trips were completely filled because people, they're online and they're waiting and ready to come and participate," Jones said.
The festival is being held from August 12 to 16 and it is based at the Arizona Riverpark Inn.
More than 250 people have registered so far, representing 27 states, four countries and 59 zip codes in Arizona.