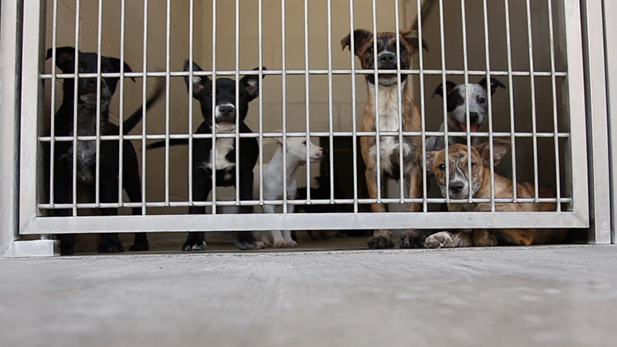 Puppies at Pima Animal Care Center July 8, 2015. (Sandra Westdahl, AZPM)
Pima County is asking residents for input on what the community needs in its new animal care center.
Last November voters approved the construction of a $22 million dollar facility, which will replace the existing structure that has taken in stray and unwanted animals since the 1960s.
The county's move to euthanize fewer animals means the existing facility is often overcrowded.
Residents will have a chance to speak directly with Pima County Officials and with representatives from Line & Space, the local architecture firm designing the facility.
Julia Flannery, health information manager with the Pima County Health Department, said next Thursday's session is about more than just design of the building.
"In order to build a physical building you need to understand what the needs are of our community and how the structure of the building can help meet those needs," she said.
The meeting will take place on Thursday July 23 at the Abrams Public Health Center, 3950 S. Country Club Road, Suite 100 between 6 p.m. and 7:30 p.m.
According the Flannery, the county will begin construction on the new shelter this autumn; it should be operational in 2017.