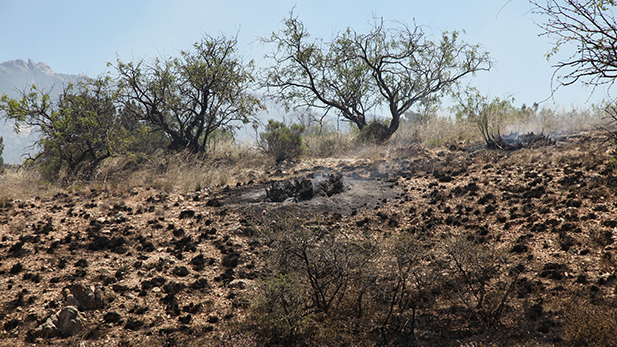 Listen:
Bill McDonald's family has owned the grazing rights for Sycamore Ranch for more than a century.
The ranch sits on 21,000 acres in the Peloncillo Mountains, a range that straddles the Arizona-New Mexico state line. It's about 50 miles north of the border, and Border Patrol often travel up and down the area.
In June, about a tenth of the land was singed as a controlled wildfire moved across it.
"The Hog Fire was about 1,350 acres," said McDonald. "And the other one was about 500 acres on my allotment."
That made McDonald Happy.
"If you don't burn in this country, you are going to lose your grass over time," McDonald said.
McDonald is one of many ranchers in this area that believe fire is helping restore their allotted lands.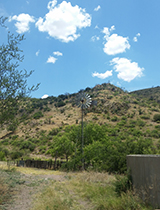 Sycamore Ranch sits on nearly 21,000 acres of land, most of which is a part of Coronado National Forest. (PHOTO: Zac Ziegler)
They banded together in 1992, along with environmentalists and academics to form the Malpai Borderlands Group.
Fire was, and still is, one of the main issues that brought them together.
"We came together over many meetings, mainly having to do with this issue of fire," said McDonald.
Each year, as the weather warms up and fire season draw near, the group talks with those who manage the public lands they use for grazing in order to make their wishes for the land known.
That includes a map of who owns rights to which allotments, and if they'd like that land have a controlled fire burn over it if the chance arises.
"When we found out we had a fire in this location, the first thing we do is try and figure out who's going to be most affected by it, and who do we need to talk to, who do we need to see what their preferences might be," said Kevin Warner, the district ranger for the Coronado National Forest's Douglas District.
When two fires started on Douglas District land in July, Warner did exactly that.
He found out it was McDonald's land, and McDonald quickly new the answer.
"I got a call from the district, and they said, 'what would you like us to do?'" McDonald said. "I said, 'well, I'd kind of like it to burn. It's in a good place.' Because it had started on my allotment. That's what they did."
The fires were managed, and consumed about 14,000 acres total.
That will benefit McDonald in the coming months.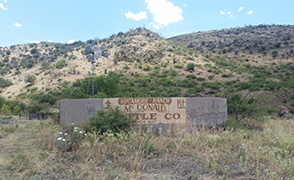 The hills near McDonald's home on Sycamore Ranch were burned by a wildfire in 2008. "I don't get that nervous about it," he said "You've got to burn. You've got to be smart about it.

Zac Ziegler
"The effect fire has moving through this country naturally is to open things up and remove some of the woody species, the brush and shrubs, which allows grass to come up," said Johnny Whatley, the fire manager for the Douglas Ranger District.
That means plenty of grass in the spring.
"You will see bright green, and brown in between where things didn't burn," Whatley said.
As burns like these continue, those who work with Malpai hope others will see the results and allow fire to burn on grazing lands.
"When folks see the effects as a positive thing rather than a negative thing, then they're going to be more likely to want to work with us in how we manage these things in the future," said Douglas District Ranger Warner.
Those who wonder if fire is benefiting the land will have more evidence than the 14,000 acres burnt this year.
Malpai Borderlands Group has seen many managed wildfires and controlled burns over its 23-year existence.
"I thought that we'd be lucky if we get a few of these fires off," said McDonald. "We've actually burned several hundred-thousand acres, both natural starts and prescribed burns, since our group started."
McDonald hopes that the land that is looked over by the Malpai Borderlands Group will help prove to those that don't allow fire on their land that the grass is actually greener on their side of the fence.