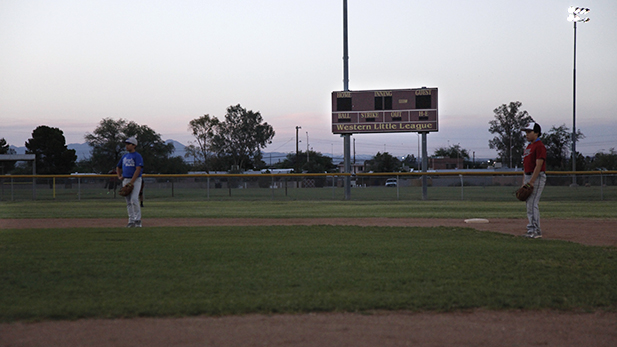 The Western Little League Majors All Stars team practices at Joaquin Murrieta Park on June 19, 2015. (PHOTO: Mariana Dale, AZPM)
Listen:
The west side's Joaquin Murrieta Park is home to Western Little League, senior sports teams and innumerable weekend birthday parties.
The 40-year old park is also known for sparse shade, patchy fields and aging infrastructure.
That could change if voters approve the Pima County Bond proposal in the fall. The park is up for $5 million in funding and is one of 99 community projects that could receive funding. In approving the issue, voters agree to a temporary sales tax to borrow money for the projects.
"It's a place to get away from the house, from the apartment. Go take a walk. Clear your mind," said Dan Castro, a west side resident.

Westside pride
As the sun sank on a June day, the sound of baseballs bouncing off aluminum bats echoed at the park.
Western Little League's All Star team practiced a week before their first game.
"There's a westside pride," said Castro, who is also a Little League coach. "We take pride in pushing our kids to excel in school, to be good citizens and also take care of their fields."
Castro said there are parents in the league who were players themselves 30 years ago.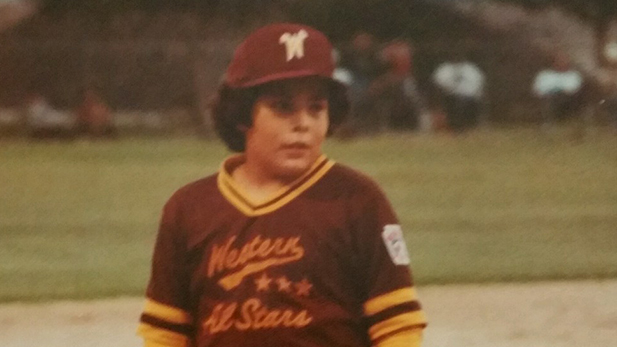 A family photo shows Ernest Armenta's relative Steve Armenta in earlier days of Joaquin Murrieta Park. (PHOTO: Courtesy Ernest Armenta)
A history of activism
Joaquin Murrieta Park was born from civil unrest. West side residents started protesting in the late 1960s for a piece of El Rio Golf Course to call their own.
"At that time the westside, Barrio Hollywood and Barrio Savaco they were very underserved by the city council in terms of parks, public libraries," said Frank de La Cruz, who joined the protests as a member of Centro Chicano, an activist group at the time.
De La Cruz said one march drew 2,000 people including families, grandparents and teeenages.
"It was very loud, very happy," De La Cruz said. "We stopped in front of the gates and that was where we made our demand, our public demand that that entire golf course be converted into a park."
What the community got was 43 acres. They named the park for Joaquin Murrieta, a Mexican miner during the California Gold Rush who was known to some as a Robin Hood- like figure.
'In need of repair'
Joaquin Murrieta Park has aged in the decades since its creation. A city report called the facilities "at or beyond their useful life expectancy."
Western Little League Board Member Ernest Armenta said some leagues wouldn't play at the park because of the poor conditions.
"The fence was broken it was rusted out, kids were afraid of injury, parents were afraid of injury," Armenta said. "Everybody accepted it because that's just the way it has been."
Armenta said from where he sat and watched Little Leagues practice on patchy grass he could see the smooth lawns of El Rio Golf Course.

In 2013, the City hosted a series of community meetings to collect feedback about the park and start a plan for the future.
Residents noted gopher holes, a lack of parking, broken bathrooms, and a pool closed for years.
Tucson City Councilwoman Regina Romero's ward includes the westside.
At the time, Romero said, the city couldn't to pay for the $11.9 million in improvements the master plan called for.
"We had to really hold as much as we possibly could our budgets because we were losing millions and millions and millions of dollars," Romero said.
Sales tax revenue, which funds a large part of Tucson's budget, dropped in the recession. The adopted budget for the Parks and Recreation Department shrunk 30 percent in the last decade.
The bond proposal for Joaquin Murrieta Park would pay for renovated fields, ramadas, parking lots, new playground equipment and a plaza.
"Now we're in line for money," Romero said "At this point we are ready."
In the meantime, the city has focused on making small repairs including repairing the fence, leveling fields and re-seeding the grass.
"You go out and really enjoy just walking around the park," said Christina Ballesteros, whose grandsons play Little League. "Before there was a lot of gopher holes, you'd have to be looking down because it was dangerous."
Whether the bond passes or not, Western Little League family members said they will continue to seek new ways to improve their park.
"It's an amazing place...because it changes from 100 separate families to one big baseball family," Armenta said.
Thousands of dollars have already been donated to repair the park in the name of one little league player. That story will be in this week's Arizona Spotlight.