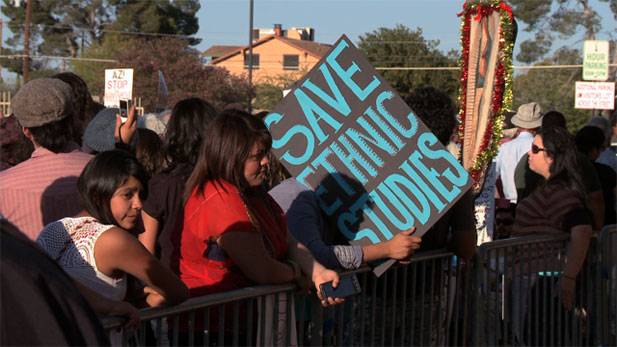 AZPM
A federal appeals court Tuesday upheld most parts of the Arizona law that bans ethnic studies in public schools, a ban that led Tucson Unified School District to shut down its Mexican American Studies curriculum.
The 9th U.S. Circuit Court of Appeals in San Francisco upheld most of a lower court decision that the 2010 law is not overly broad and vague.
But the appeals court sent back to U.S. District Court a claim that the law was enacted with discriminatory intent in violation of the 14th Amendment. A trial is expected to be held on it.
Enactment of the law led to protests that included Mexican American Studies students and former students chaining themselves to chairs in the TUSD Board of Governors meeting room.
At one point, state education officials threatened to withhold up to $15 million in funding for TUSD unless the program was dropped. The school district capitulated and fired the head of the program.
Later, a federal judge overseeing the school district's four-decade-old desegregation case ordered school officials to enact "culturally relevant" curriculum. The curriculum was established, but rejected as illegal by John Huppenthal on his last day in office in January as state superintendent of public instruction.
His successor, Diane Douglas, reviewed the curriculum and found it in compliance with the law but ordered some adjustments in the way it was being taught. She also ordered state monitoring of teachers presenting the curriculum.