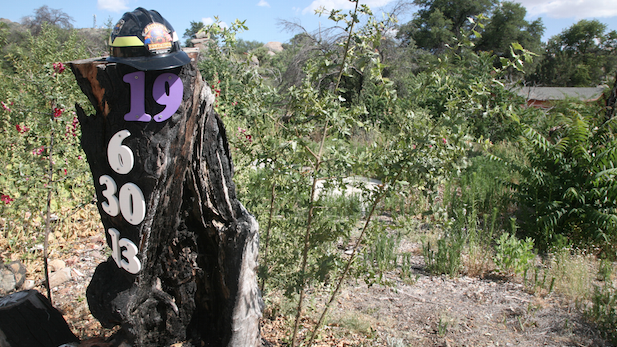 A memorial to 19 firefighters who died June 30, 2013.

Stina Sieg, Fronteras Desk
Listen:
By Stina Sieg, Fronteras Desk
Two years ago Tuesday, 19 members of the Granite Mountain Hotshots died in the Yarnell Hill Fire, the deadliest wildfire in Arizona history.
The fire devastated the tiny town of Yarnell in Yavapai County, leaving many people to wonder if the little community would ever recover.
On Sunday, dozens gathered under a big, white tent next to a plaque with photos of the 19 men. Somehow, there's more gratitude in the air than sorrow, even for those who lost the most.
"Garret Zuppiger, who by virtue of his last name is always the last on the list, was my grandson, our only grandchild, actually," said Lew Theokas.
He and his wife Marcie have lived a short ways up the road in Peeples Valley for years but never felt much a part of the community until after the fire that claimed their grandson. And it's not just about that purple ribbon a stranger left on a tree outside their home, Lew said.
Locals have banded together and made them feel included, Lew Theokas said. Now, he said, any time they go into town it takes an hour, because they always stop to chat with people they care about and who care about them.
"It's been unbelievable. It's been enriching. We are blessed," he said.
They're not alone. After the fire destroyed 127 homes, people in the community and across the country sprang into action. The Red Cross and other groups descended on the town, donations of clothing and furniture and money poured in. Marcie Theokas said she saw her neighbors come together like never before.
"The help and support and caring that they've had, the relationships that they've formed," she said, "this is not just us. This is tons of people. Their lives are different. Our lives are different."
In Glen Ilah, a neighborhood hit hard by the fire, Linda Ma stood next to the burned frame of what used to be a dining room chair.
"Have a seat," she offered. Her house and the trees that surrounded it are gone, and only now has the smallest frame of her future home appeared. But Ma looked happy, and called her barren lot filled with boulders, a "moonscape."
"I became a kinder and gentler human being because of this whole incident," she said.
That may be because Ma threw herself into helping others as a core member of the Yarnell Hill Recovery Group, created by locals right after the fire. The group has raised about $2 million to help people rebuild and ensure that life will go on.
"I'm in awe of the experience," she said. "I mean, tragic, yes, but it's really brought everyone together."
Ma said it reminds her of her old home of San Francisco, and how friendly people were in the days following the Loma Prieta earthquake in 1989. She remembered that vibe disappearing after a few days.
Debbi Keehner is another Yarnell resident who said she feels the difference in her neighbors.
"I have never been this nice in my life to deserve all the wonderful things that have happened to me since the fire," Keehner said. "I know I haven't been this good."
Keehner and her husband, Steve, sat on the porch of their new home built with funds from the Yarnell Hill Recovery Group. Their old home, in which they had lived for decades, burned to the ground, along with almost everything they had, except for their vehicles and a few odds and ends.
"We have so much to be grateful for, and the biggest loss with everything had to be the firefighters," Debbi Keehner said.
Steve Keehner that loss can make it hard to enjoy their good fortune, and it keeps them forever humble.
"They gave everything they had," he said. "And I don't want anyone to ever forget them and what they did."
That's why 19 small U.S. flags flapped in the breeze on the Keehners' porch railing.