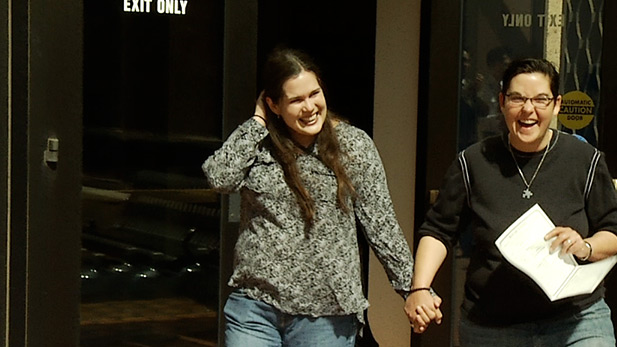 Jennifer Shelton, left, and Katherine Harrison got their wedding license at the Pima County Courthouse in Tucson in October 2014, hours after gay marriage was legalized in Arizona.

AZPM Staff
The political and cultural divisions over same-sex marriage continued Friday in Arizona in the wake of the U.S. Supreme Court's ruling that banning it is unconstitutional.
The Center for Arizona Policy issued a statement saying that by allowing same-sex marriage, the court is saying that "children don't deserve the best opportunity to be raised by their mom and dad."
"Today's U.S. Supreme Court decision is historically tragic," the statement said. "The high court has disregarded the democratic process by stripping all Americans of their ability to debate and decide marriage policy."
Democratic state Rep. Victoria Steele said in a statement she was she was "elated with the Supreme Court decision today and believe it brings us much closer to achieving true equality. This victory builds on the momentum of the equality movement, as community members and allies work to ensure that LGBTQ people receive equal protection across the board."
The Center for Arizona Policy backed passage of a 1996 state law and a 2008 voter-approved state constitutional amendment outlawing gay marriage.
A federal judge blocked those Arizona laws from being enforced last October, leading to same-sex marriages throughout the state.