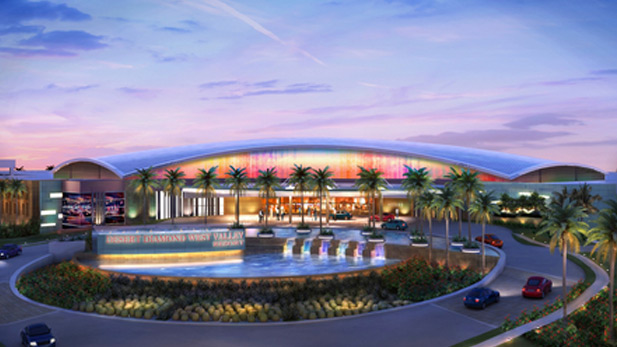 Proposed Tohono O'odham casino in Glendale. (PHOTO: westvalleyopportunity.com)
Listen:
The Tohono O'odham Tribe has filed suit against Gov. Doug Ducey and other Arizona officials seeking a court order to allow the tribe to open a casino in Glendale by the end of this year.
The Arizona Republic reports the $200 million casino is being constructed on tribal land in Glendale and is the subject of a legal conflict that's lasted six years.
Opponents of the casino say a 2002 gaming compact prohibits the casino from being built. A 2013 court decision currently under appeal says otherwise.
Prospective casino employees will be notified by the Department of Gaming starting July 3 that they may not work for an unauthorized gaming facility.
This threatens the planned end-of-year opening that the tribe's lawsuit seeks to protect.
Members of Arizona's congressional delegation have introduced legislation to block the casino, and other tribes operating casinos in the Phoenix area and elsewhere in the state have expressed opposition.
The Associated Press contributed to this report.