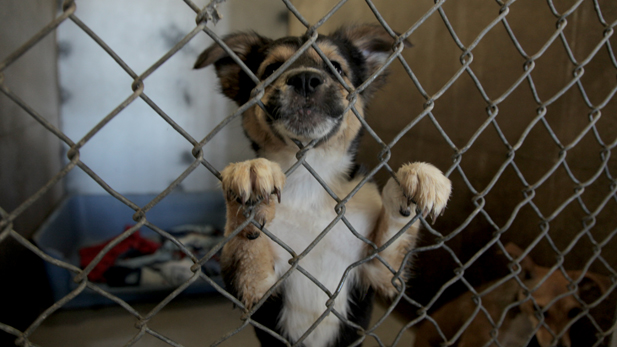 Puppy at the Pima Animal Care Center.

Fernanda Echavarri, AZPM
The Pima County Animal Care Center is at nearly double capacity after more than 500 animals were brought to the center in the last month.
Jose Ocaño, director of shelter operations, said staff members have had to put two and sometimes three dogs in a kennel, not an ideal arrangement for the dogs or staff.
"Right now we're currently housing over 800 animals, and our shelter is really meant to hold somewhere closer to the 400-450 range," Ocaño said.
To help bring the number of pets at the center down, all adoptions fees for animals more than three months old will be waived until the end of June.
Ocaño said the shelter hopes the community will step up.
"We are the only shelter that doesn't ever turn away a pet in need. We see the highest intake of animals in our community," he said.
The Pima Animal Care Center is at 4000 N. Silverbell Road in Tucson.