Listen
Three years ago Monday President Barack Obama launched a program to give young immigrants temporary work permits and more than half a million have received them.
In Arizona almost 19,000 people have qualified for Deferred Action for Childhood Arrivals, data from the U.S. Citizenship and Immigration Services showed.
The program gives recipients a two-year work permit and relief from deportation. To qualify young immigrants must have been brought to the U.S. as children, have no criminal background and meet a series of other requirements.
Josue Saldivar applied for the permit in 2012, received it and has since renewed it.
"DACA for me provided a legal pathway for employment," he said.
Arizona immigrants with these permits are now allowed to apply for driver's licenses and receive in-state tuition at the University of Arizona and Pima Community College.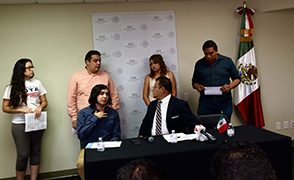 Mexican consul in Tucson holds press conference calling DACA a 'success' on its three-year anniversary. (PHOTO: Fernanda Echavarri, AZPM)
In Arizona 97 percent of those who have permits are from Mexico, said Ricardo Pineda, consul of Mexico in Tucson. Nationwide 70 percent of DACA recipients are from Mexico.
"Mexico welcomed DACA as a recognition of the many contributions that Mexicans have given to the economy and society of the United States," Pineda said.
The Mexican government, through its consulates across Arizona and the U.S., has provided assistance to those filling out applications for the last three years in hopes of preventing those in vulnerable situations from scams, Pineda said.
A large number of young Mexican immigrants who could qualify for temporary deportation relief, he said, still have not applied.
Last November Obama announced executive actions on immigration, which included extensions to DACA. The new program would eliminate the requirement that says applicants must be 30 years old or younger. The presidents' actions are held up in court.