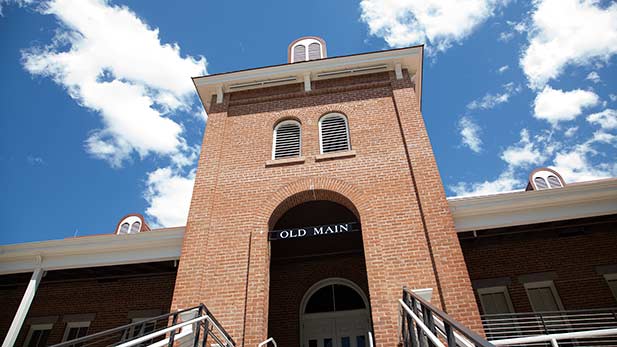 Old Main on the University of Arizona campus (PHOTO: Megan Roxbury, AZPM)
Listen:
Layoffs are coming at the University of Arizona in the wake of funding cuts by the state Legislature.
That news came Thursday as the UA, Arizona State University and Northern Arizona University had their budgets for next fiscal year approved by the Arizona Board of Regents.
The $1.9 billion UA budget for 2015-16 includes state funding cuts that total $28.3 million, and that means layoffs, the university's chief financial officer said.
"The reality is we will have staff reductions," Gregg Goldman, the UA's chief finance officer, told a Board of Regents committee Wednesday at its Tucson meeting. "What we want is to be thoughtful and caring and try to minimize that."
Details of the cuts are expected in August, including programs and positions that will be eliminated, a university spokesman said.
Goldman said cuts will be made with academic programs and the UA's long-term growth uppermost in priority, ahead of administrative spending.
"We can't take a hacksaw to anything we're doing," he said. "We've got to go in strategically, thoughtfully and prune the tree, because when the tree comes back and as we move forward, as budgets come back or at least become more stable, we're in a position to grow thoughtfully as opposed to a way that's maybe lopsided."
Among the three state universities, state funding cuts total $99 million for the 2015-16 fiscal year. All have announced tuition or fee increases to cover some of the gap.