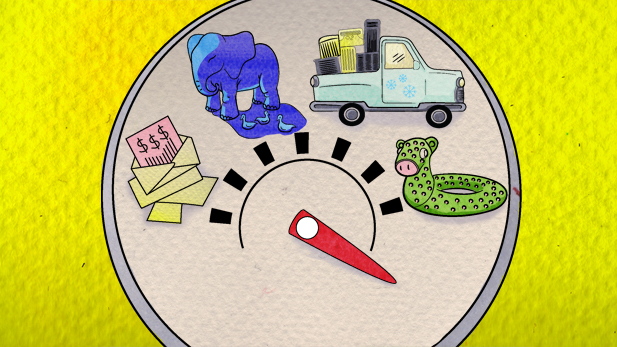 Illustration by M. Roxbury, AZPM
Listen:
It may be no surprise that water use spikes during the triple-digit days of summer in the desert.
Swimming pools need to be kept full - and an inch of evaporation a day is not unheard of - swamp coolers are on full blast and plants are thirsty.
Fernando Molina, a public information officer with Tucson Water, says there are a number of steps Tucsonans can take to minimize water bills this time of year.
Private water customers use about 70 percent of water inside homes. The biggest culprit has nothing to do with changing seasons – it's the toilet.
"Toilets are notorious for leaking," Molina said. "Those little $5 plastic valves that control the flow of water – those should be changed at least once a year, definitely every two years."
Also important - particularly during the summer - is adjusting when and how outdoor plants are watered.
"A lot of it tends to be over-irrigated," Molina said.
Tucson Water officials recommend that Tucsonans should water plants during the cooler parts of the day, watch for leaks, install an irrigation timer, and collect and use rainwater.
Though the latter will be difficult, if not impossible, for the next few months.
Molina said that while outdoor water use can be further reduced, Tucsonans are decades ahead of other cities in the region in terms of water consumption and conservation.
"We are a model," he said. "I think one of the things that really stands out is our acceptance of desert landscapes and irrigation technologies that come along with that."