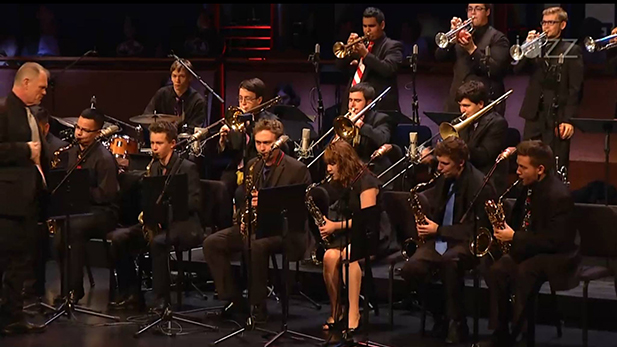 The Tucson Jazz Institute's Ellington Band performs at Lincoln Center

Courtesy of the Tucson Jazz Institute
Listen:
The Tucson Jazz Institute, a high school music program, took second place at Jazz at Lincoln Center's Essentially Ellington Festival and Competition last weekend In New York City.
It is the premier competition for high school jazz bands, and the Tucson group won the national event in 2013 and 2014.
Band Director Doug Tidaback said this year's band was young, because more than a dozen members graduated last year.
"You don't know if they're going to actually be able to produce what you're asking them to produce, and they did," Tidaback said. "They were so inspiring. I mean, it was a big win for us, and I'm so pleased with this band."
Tidaback said the group's soloists took home awards from the competition.
The institute will end its year with a 2 p.m. Sunday performance at Utterback Magnet Middle School, 3233 S. Pinal Vista in Tucson. Tickets for the concert can be purchased online

View the Emmy-nominated segment on the band's preparations to attend the 2014 competition:
(VIDEO: AZPM)