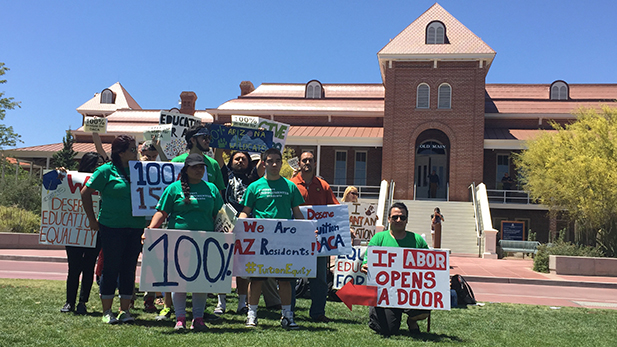 'Dreamers' demonstrate on UA campus for in-state tuition, April 29, 2015.

Vanessa Barchfield, AZPM
Young immigrants granted deferred deportation status by the Obama administration are eligible for in-state college tuition, a Maricopa County Superior Court judge ruled Tuesday.
Judge Arthur Anderson ruled in a lawsuit filed by former Attorney General Tom Horne against the Maricopa County Community College District, which had granted in-state tuition to the young people known as "Dreamers."
Tuesday's ruling may apply only to Maricopa Community College. Pima Community College offers in-state tuition to Dreamers.
The Arizona Board of Regents took up the topic at its Monday meeting to approve tuition changes at state universities. It discussed the idea of charging tuition at 150 percent of the in-state rates for students who attended an Arizona high school of at least three years, graduated from it and are in the state legally but not eligible for in-state tuition.
Those rules would apply to "Dreamers."
After Tuesday's court decision, the regents issued a statement saying, "We do not expect this ruling to impact the status of this proposed policy."
In the court case, Horne contended that "Dreamers" offered deferred action status were not legally present in the U.S and could not get state benefits because of a 2006 voter-enacted law known as Proposition 300.
But Anderson said the federal government considers deferred action recipients lawfully in the U.S. and they can get lower in-state tuition.
President Barack Obama created the Deferred Action for Childhood Arrivals program in 2012 for young people who had been brought to the United States illegally as children.