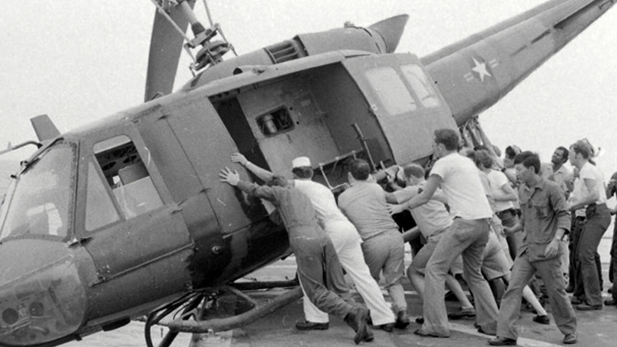 A still image from the documentary Last Days in Vietnam.
Listen
The Vietnam War ended during the last week in April 1975, but the effect of the chemical known as Agent Orange continues to impact war veterans and Vietnamese villagers alike.
Some long-term health issues that are only now being realized, 40 years later.
Tucson resident and U.S. army veteran Dennis St. Germaine remembers a moment in South Vietnam. It was the first time he saw U.S. planes spraying a chemical that was supposed to help soldiers find the enemy in the dense jungle.
"Within two days all the leaves in the jungle had turned brown and fallen off, and basically opened up a field of fire," St. Germaine recalled. "We could see out there a mile, rather than 50 yards."
After he returned home, St. Germaine began to learn more about the chemical, a dioxin called Agent Orange. Some of his research came on assignment while working as a reporter for a Texas newspaper in the 1980s.

"I interviewed a fellow veteran who had what must have been Chloracne, because he had huge boils all over his body, his cheeks, and it had really affected him a lot," says St. Germaine. "That was my first experience meeting someone who was affected by it."
Since then, researchers have linked 14 diseases to Agent Orange exposure, citing health problems in the children and grandchildren of Vietnam veterans in the U.S., including spina bifida, cleft palate, and intestinal problems.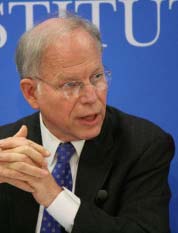 (PHOTO: Photo courtesy: Aspen Institute)
Investigators discovered the same kinds of health problems on the other side of the world, in villages near where the chemical was used 40 or more years ago.

Charles Bailey served as the Ford Foundation's representative in Vietnam between 1997 and 2007.

"The best estimates were that 3 million Vietnamese have suffered health effects," he said. "About 150,000 of today's children have suffered birth defects and severe illnesses later in life."
Two decades after the war ended, Bailey joined the Aspen Institute, a Washington-based organization specializing in resolving difficult international policy issues.
His job in Vietnam was to break a logjam over the U.S. government's responsibility for Agent Orange contamination, at the air bases that Americans built, and in the villages where health effects lingered.
"When American diplomats first returned to Vietnam in 1995, they were forbidden by the State Department to use the words Agent Orange and Agent Orange victim," Bailey said. "It sounds bizarre now, but it was true and then there was a period when there was an argument about the science."
Bailey said the technology finally exists to begin cleaning up dioxin from the soil in Vietnam, beginning with the former American air bases where Agent Orange was stored.

"The most important part is that the U.S. government is now committed to cleaning up the air bases," Bailey said. "They still have problems providing money to help these disabled children, and they're doing it while using the phrase 'regardless of cause.' In other words, they will not admit to any relationship between dioxin exposure and birth defects in South Vietnam."
Meanwhile, Dennis St. Germaine is working to inform U.S. veterans about the ongoing legacy of Agent Orange.

He organizes informational town halls for veterans and their families, telling them about the chemical's impact. St. Germaine says veterans' medical organizations are finally addressing the issue, and he's spreading the word to veterans about how they can apply for relief.
"It's poison to humans and other animals, as well as plants," warns St. Germaine."Dioxin stays in the environment for many, many years. It can stay in your body for your whole life."
St. Germaine says the use of the chemical may have saved soldiers' lives in Vietnam, but it came at a cost, and continues to affect millions of lives today.
The U.S. Department of Veterans Affairs recognizes more than a dozen conditions including Chloracne and Parkinson's disease associated with exposure to Agent Orange .
"Veterans and their survivors may be eligible for benefits for these diseases," the VA said on its website.
St. Germaine and Charles Bailey said the U. S. government is slowly beginning to confront the effects of Agent Orange in Vietnamese villages, on American veterans, and on families in both countries.