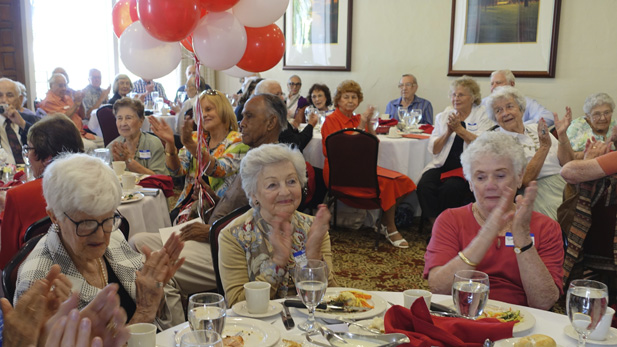 "We've always been a very close class," said reunion planning committee member Jo Margaret Wilson Morrison

Vanessa Barchfield, Arizona Public Media
Listen:
Seven decades have passed since Tucson High School's class of 1945 received their diplomas. They gathered together on a recent Saturday to celebrate that landmark reunion.
There were balloons in the school's colors - red and white - and a table filled with fading yearbook photos that revealed what a different place the world was when they graduated.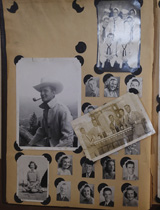 The war in Europe was coming to its bloody end, but the bombs had not yet fallen on Hiroshima and Nagasaki. A number of their classmates ended up in the Pacific fighting the tail end of World War II.
Kathleen Campbell Laws said she knew she might not see those boys again – or the ones who were drafted several years later to fight in Korea. Maybe it was that sense of danger in other parts of the world that made her grateful for being born where she was.
"I just feel like I grew up in the best place in the world," she said. "And the best country. And the best of times. They were simple. We were naïve – as a country, we were naïve."
Times were not, of course, great for everyone.
Jim Crow laws were in full effect. Tucson's African American students went to a segregated elementary school and junior high, but there was not a separate high school. Morgan Maxwell was one of a handful of black students in the class of 1945.
He said Tucson High was segregated, in some sense.
"We had segregated homerooms. And at our graduation we all, the black women's homeroom and the black men's homeroom, we all marched in the rear."
But Maxwell said there was not any racism among his classmates.
They were all just friends. In fact, one story about his days on the football team has entered the realm of class legend. The team – which was undefeated his senior year – had played Douglas High School, and won. After the game, they went for a celebratory meal at the Gadsden Hotel.
"Gadsden would not serve me," Maxwell said. "They said 'we do not serve negroes' - that's what we were called then."
Maxwell walked out of the restaurant and minutes later, his team followed.
"Our coach was Coach Gridley. He said, 'we all eat together.'"
Jo Margaret Wilson Morrison, who described that story as the classic tale of Tucson High, said the class of 1945 was all about togetherness – and still is.
"We've always been a very close class," Morrison said. "It's one that we've stayed together. We've been all through the weddings, the kids, and a lot of us have come back to Tucson from being gone."
Though 70 years is a notable milestone, the group has had numerous reunions over the decades– the last one was just two years ago.
Will there be more?
No, members of the organizing committee said. This is the last.