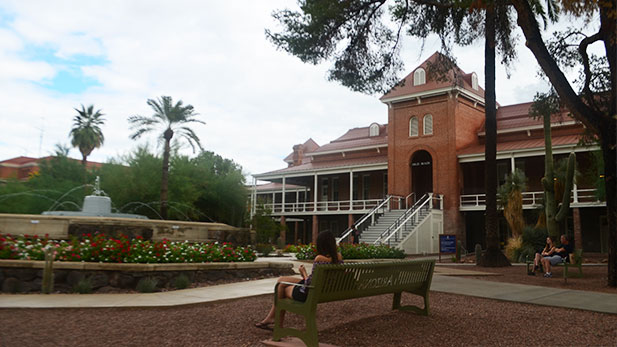 Students sit on benches at the front entrance of Old Main. (PHOTO: Maria Inés Taracena, AZPM)
The public will have a chance to weigh in on proposed changes to tuition and fees at Arizona universities during a hearing Monday night on the University of Arizona Campus.
A proposal released earlier this month would raise tuition for University of Arizona students who did not opt in to a guaranteed tuition plan.
Current in-state students who aren't on the plan would see an increase of less than 3 percent to $10,872.
Incoming freshman from Arizona would pay $11,403 – a rate that will be locked in for four years. Freshman from outside of Arizona would pay $32,630 - up 11 percent.
The hearing is from 5 p.m. to 7 p.m. at the University of Arizona Student Union in the Gallagher Theatre.
The event will be live streamed on Arizona Public Media's website.
Comments can also be submitted at tuition@azregents.edu.